Registrar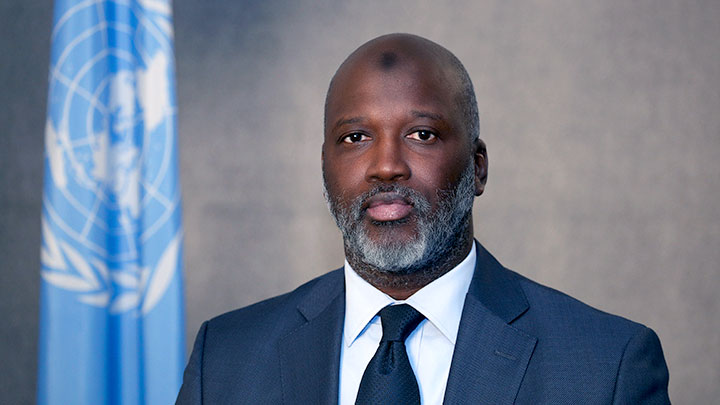 Mr. Abubacarr M. Tambadou
Gambia
Registrar of the Mechanism effective 1 July 2020
Mr. Abubacarr M. Tambadou of the Republic of The Gambia was appointed by the Secretary-General as Registrar of the Mechanism effective 1 July 2020.
Previously, he was the Attorney General and Minister of Justice of the Republic of The Gambia from February 2017 to June 2020. Mr. Tambadou was born in The Gambia on 12 December 1972. He obtained an LLB (undergraduate) Degree from the University of Warwick, United Kingdom, in 1997; and an LLM (Master's) Degree in International Human Rights Law from the School of Oriental and African Studies, University of London, United Kingdom, in 2002. He was called to the Bar at Lincoln's Inn in the United Kingdom, and as a Barrister and Solicitor of the Supreme Court of The Gambia, in 1999.
Mr Tambadou has extensive executive, management and administrative experience. Until his appointment as Attorney General and Minister of Justice in February 2017, Mr Tambadou was the Special Assistant to the Prosecutor of the United Nations International Residual Mechanism for Criminal Tribunals ("the Mechanism") between 2012 and 2017. As Special Assistant, Mr Tambadou supported successive Prosecutors of the Mechanism and represented the Office of the Prosecutor in the operationalization of the two branches in Arusha and The Hague ensuring, in the process, close collaboration between the three organs of the Mechanism.
Mr Tambadou also has extensive litigation experience in international human rights law, international humanitarian law, and international criminal law. First, as Trial Attorney at the Office of the Prosecutor (OTP) of the United Nations International Criminal Tribunal for Rwanda (ICTR) between 2003 and 2008, Mr Tambadou was involved in the prosecution of four senior military officers implicated in the 1994 Rwandan genocide including the former Chiefs of Staff of the Rwandan Army and Gendarmerie. As Appeals Counsel (OTP) between 2008 and 2012, Mr Tambadou handled several appeal cases that involved complex groundbreaking international law principles, including the appeal case of Colonel Theoneste Bagosora, the man many believed to be the mastermind of the 1994 Rwandan Genocide.
More recently, Mr Tambadou has been elected, in 2019, by his peers in the African Union, as the Chair of the African Union (AU) Specialized Technical Committee on Justice and Legal Affairs. He was also elected, in 2018, by the Council of Foreign Ministers of the Organization of Islamic Cooperation (OIC) as Chair of the OIC Ad Hoc Ministerial Committee on Accountability for Human Rights Violations Against the Rohingya. In this regard, he successfully initiated and led OIC efforts and The Gambia's case against the Republic of Myanmar at the International Court of Justice under the 1948 Genocide Convention, and successfully obtained, in January 2020, the unprecedented provisional measures order against the Government of Myanmar for the protection of the Rohingya. He was on the Time Magazine list of 100 Most Influential people of 2020, and a Nobel Peace Prize Nominee in 2021.