Prosecutor Jallow concludes official visit to the former Yugoslavia
Office of the Prosecutor
Press release
The Hague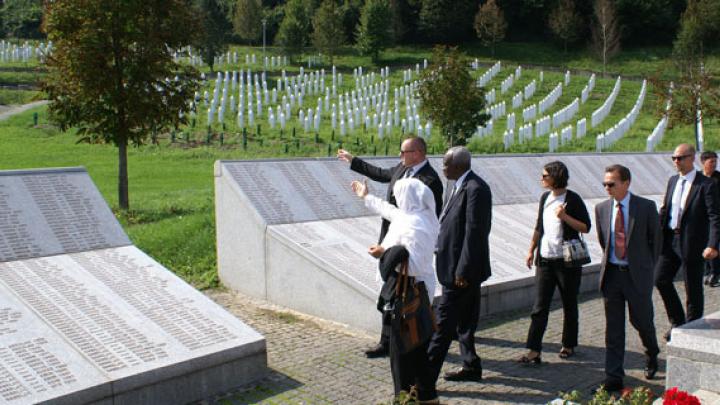 Prosecutor Hassan B. Jallow today concludes his first official visit to the region in his capacity as Prosecutor of the MICT. As part of his week-long visit, the Prosecutor travelled to Serbia, Bosnia and Herzegovina, and Croatia.
Prosecutor Jallow held meetings with the ministers of foreign affairs and justice, and with other officials. In the meetings, the Prosecutor discussed the transition of functions, jurisdictions and powers from the ICTY to the MICT.  He also met chief prosecutors, including Vladimir Vukčević, Goran Salihovič and Dinko Cvitan, to discuss their cooperation and sign memoranda of understanding regarding the framework for continued assistance of his office in facilitating access to evidence in The Hague.
Mr. Jallow is pleased to note that all interlocutors affirmed their willingness to cooperate with his office.
In Bosnia and Herzegovina, the Prosecutor also visited the memorial sites in Srebrenica, Bradina and Grabovica and paid his respect to the victims. While in Srebrenica on 10 September, Prosecutor Jallow said: "What happened here and in Rwanda could have been stopped. We must learn a lesson from this to ensure that such crimes never happen again". On 11 September, in Grabovica and Bradina the Prosecutor also expressed his deep sympathies over the tragedies that took place in those localities and said that his office would do all it can to facilitate national efforts to investigate and prosecute crimes committed in the former Yugoslavia. 
Prosecutor Jallow has been ICTR Prosecutor since 3 October 2003, and was appointed MICT Prosecutor on 1 March 2012. He has assumed numerous responsibilities from the ICTY, including dealing with possible appeals in ICTY completed trials of Radovan Karadžić, Ratko Mladić, Goran Hadžić and Vojislav Sešelj. MICT OTP is also supporting national judiciaries' work on war crimes cases through providing access to a variety of evidence gathered during ICTY investigations.