President Meron speaks at Security Council open debate on international law and the rule of law
President
Press release
The Hague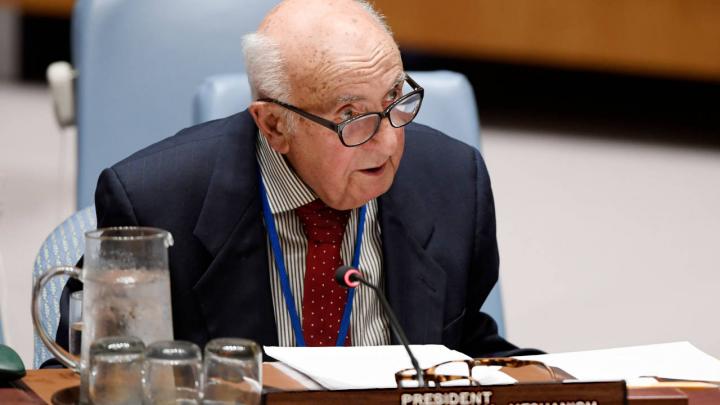 The President of the International Residual Mechanism for Criminal Tribunals, Judge Theodor Meron, yesterday briefed the UN Security Council on progress toward ensuring accountability for serious violations of international law and the role that different actors, including the Council, can play to advance efforts in this regard. The open debate was organized at the initiative of the Republic of Poland, which currently holds the presidency of the Council, with the aim of reflecting on the current state of respect for international law in the context of the maintenance of international peace and security and what could be done to improve it.
His Excellency Mr. Andrzej Duda, President of the Republic of Poland, chaired the debate, which also included briefings by Her Excellency Ms. Maria Luiza Ribeiro Viotti, Chef de Cabinet of the UN Secretary-General, on behalf of the Secretary-General, and Judge Hisashi Owada, Judge and former President of the International Court of Justice (ICJ), on behalf of the President of the ICJ.
President Meron observed that, as the result of work by international criminal courts such as the International Criminal Tribunal for the former Yugoslavia and the International Criminal Tribunal for Rwanda, "there is an ever-increasing expectation in communities around the world that where atrocities are committed in violation of international law, accountability shall follow. This is a profound change from just a quarter of a century ago". However, President Meron acknowledged that international criminal justice is "still very much in its infancy, and it is in a highly vulnerable stage of development at present […] facing something of a period of contraction […] after a remarkable period of expansion".
President Meron stressed the importance of accountability efforts by national jurisdictions, noting that it is only through the engagement of States on a broad scale that the accountability gap may be closed. He further proposed a number of steps that the Council may consider in order to advance efforts to ensure accountability for international crimes, including revisions to the Council's decision-making approach in addressing alleged violations of international law such as through the development of objective criteria to be applied by the Council in assessing allegations of international crimes and steps to be taken in relation thereto.