President Meron presents sixth Annual Report to the UN General Assembly
President
Press release
Arusha, The Hague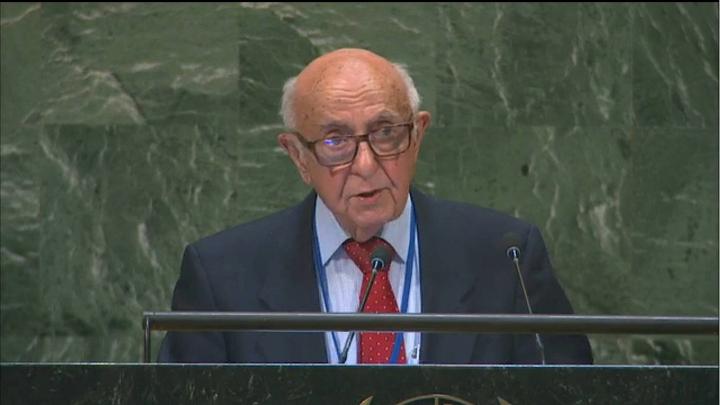 President Theodor Meron yesterday presented the sixth Annual Report of the International Residual Mechanism for Criminal Tribunals (Mechanism) to the United Nations General Assembly (Assembly),  highlighting the most notable developments in the Mechanism's work in the past year.
The President commenced his final remarks before the Assembly as President of the Mechanism by reflecting upon the common and vital commitment to upholding the principles of justice, accountability and the rule of law. He noted that "[t]he International Criminal Tribunals for Rwanda and for the former Yugoslavia were born of just such compelling demands for justice and accountability", adding that the Mechanism, as their successor institution, continues to proudly carry forward their remarkable legacies.
President Meron then proceeded to brief the Assembly on the Mechanism's good progress in carrying out the core responsibilities inherited from the ICTR and the ICTY, from support and protection of witnesses, enforcement of sentences of those convicted, to managing the Tribunals' archives and tracking the remaining ICTR fugitives. The President reiterated the vital role of Member States' cooperation and support in this regard.
Turning to judicial activities, the President highlighted the completion of one case on appeal during the reporting period, noting in particular the adoption of a disciplinary procedure in the Code of Professional Conduct for Judges as "further evidence of the Mechanism's commitment to accountability and best practice in all that it does". He also reported on the successful completion of the first judicial hearing in a contempt case at the Mechanism's courtroom in Arusha in September.
In closing, the President bid farewell to the Assembly, expressing his gratitude for the extraordinary opportunity to serve as a Judge for nearly two decades and as the Mechanism's President since its inception.