President Meron addresses Srebrenica Commemoration
President
Press release
The Hague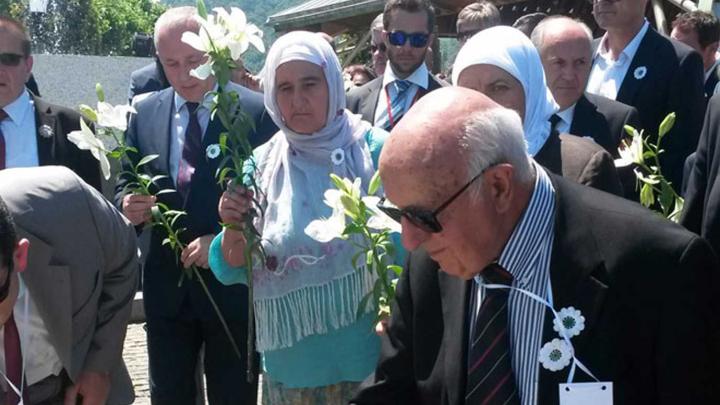 As part of the commemoration of the 21st anniversary of the Srebrenica genocide, the President of the Mechanism for International Criminal Tribunals (MICT), Judge Theodor Meron, paid his respects to the victims and delivered remarks at the Potočari memorial in Bosnia and Herzegovina.
In his address, President Meron spoke about the power of memory and recalled the role and words of Elie Wiesel, the vocal human rights advocate and Holocaust survivor, who passed away just over a week ago. Wiesel, said President Meron, spent a lifetime fighting against injustice and indifference, and viewed memory as "a sacred duty of all people of goodwill".
"[A]s we gather here, paying our solemn respects to the fathers and husbands, brothers and sons, and all of the other victims of the horrifying events at Srebrenica, we are not only paying tribute to the thousands of individuals who were deeply loved and who have tragically been lost," stated President Meron. "By returning to this place year after year, to this stark sea of marble and remembrance, we are also building an extraordinary monument to memory", he added.
He also noted that courts like the International Criminal Tribunal for the former Yugoslavia (ICTY) and the MICT can also have a crucial role in preserving memory of the most heinous crimes, such as those committed in Srebrenica in July 1995. These courts create an unparalleled record of events and through their proceedings and rulings contribute to the preservation of memory.
In closing, the President paid tribute to those who have done so much to preserve the memory of the genocide and their efforts "to speak out against indifference or denial, and to do their utmost to ensure that future generations shall learn from our terrible past and never again repeat it."