President Agius meets with President of the United Nations General Assembly
President
Press release
New York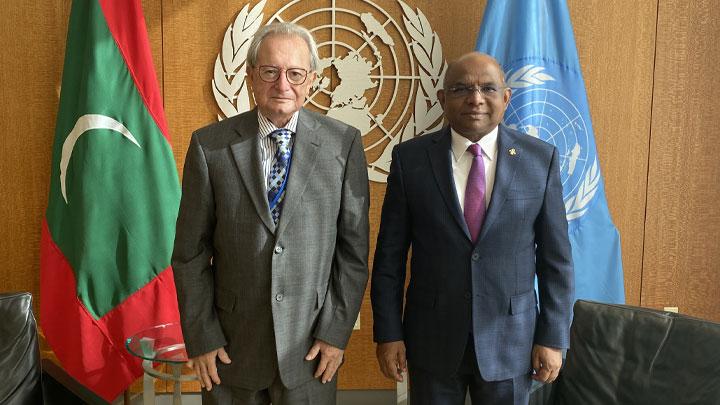 The President of the International Residual Mechanism for Criminal Tribunals (Mechanism), Judge Carmel Agius, met today with the President of the Seventy-Sixth Session of the United Nations General Assembly, His Excellency Ambassador Abdulla Shahid of the Republic of Maldives, at United Nations Headquarters in New York.
At the outset, President Agius congratulated President Shahid on his recent election as President of the General Assembly, and wished him a successful term of office. He then briefed His Excellency on the current activities and priorities of the Mechanism, including judicial developments at both of its branches. President Agius emphasised that the Mechanism is rapidly advancing towards the completion of its existing judicial caseload, with three landmark judgements having been rendered in the first half of the year. As a result, the Mechanism now has before it a limited number of appeal proceedings, and one case which is being prepared for trial.
President Agius continued by highlighting the importance of Member States' cooperation with the Mechanism, in particular vis-à-vis the apprehension of the remaining six fugitives indicted by the International Criminal Tribunal for Rwanda. Also in the context of State cooperation, President Agius expressed his serious concern about the Republic of Serbia's failure to fulfil its international obligations by executing international arrest warrants for two persons charged with witness interference. He further highlighted the negative impact that a Member State's flouting of its commitments under the Charter of the United Nations can have on the international rule of law more broadly.
In closing, President Agius praised President Shahid's vision of a "Presidency of Hope", indicating that he shares the same aspiration and that the Mechanism indeed epitomises the extent to which a vision can become reality when States cooperate with one another to achieve a common goal.
President Shahid in turn warmly welcomed President Agius and commended him for the Mechanism's work and achievements under difficult circumstances, including the ongoing COVID-19 pandemic.
President Agius is in New York to present the ninth Annual Report of the Mechanism to the General Assembly on Wednesday, 20 October 2021.