MIP participates in summer school on transitional justice in North Macedonia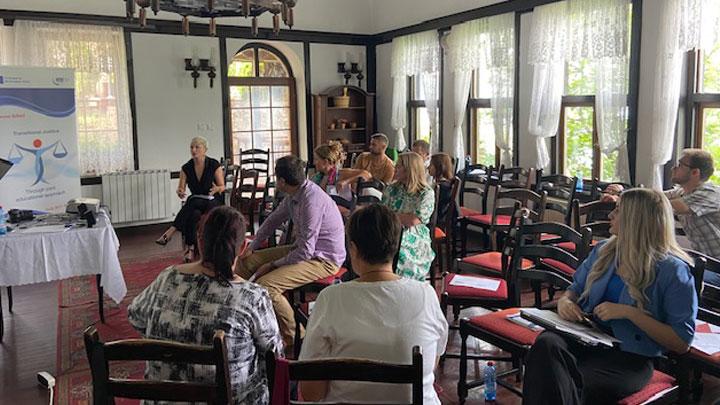 On 25 August 2022, a representative of the Mechanism Information Programme for Affected Communities (MIP) participated as a keynote speaker in the opening panel of the Summer School Transitional Justice - Through a Joint Educational Approach in Ohrid, North Macedonia. The Summer School was organised jointly by the Association of History Teachers in Macedonia (ANIM), the Western Balkan Fund (WBF), and the European Association of History Educators (EUROCLIO).
The opening panel, which was the central event in a series of discussions and workshops held during the week, brought together more than 100 history teachers, representatives of national history teachers' associations, and education policy makers from all of the countries of the Western Balkans.
During the opening panel entitled From ICTY to the Classroom, MIP youth outreach coordinator Ms. Anisa Sućeska discussed the legacy of the ICTY and the Mechanism and the importance of their archives for future generations. She emphasised the ICTY's major achievements and its influence on transitional justice processes in the former Yugoslavia. Ms. Sućeska also highlighted the importance of the regional perspective, noting that through the MIP's activities, teachers from the countries of the former Yugoslavia are together developing teaching material based on judicially-established facts from cases before the ICTY and the Mechanism.
The main topic of the Summer School was the role of transitional justice in education in the former Yugoslavia and in the context of the 1990s conflicts. Participants discussed current challenges in teaching about the conflicts, as well as different approaches to overcoming such obstacles and modes of regional cooperation.
The MIP's participation in the Summer School formed part of the Programme's efforts to support projects and events organised by civil society organisations active in the field of transitional justice in the region of the former Yugoslavia.
The aim of the MIP is to improve the knowledge and understanding of citizens and communities in the countries of the former Yugoslavia about the crimes committed during the conflicts of the 1990s, based on the jurisprudence of the ICTY and the Mechanism. The MIP is funded by the European Union.