MIP participates in opening of this year's edition of Srebrenica Youth School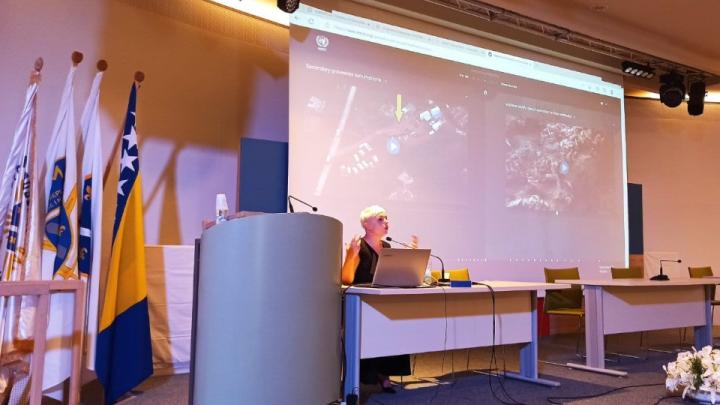 On 6 July 2022, the Mechanism Information Programme for Affected Communities (MIP) participated in the opening of the Srebrenica Youth School in Sarajevo, Bosnia and Herzegovina (BiH) by giving a lecture on the Srebrenica Genocide and presenting its online exhibition, Srebrenica: Timeline of a Genocide. The third edition of the Srebrenica Youth School brings together 50 young people from the Western Balkans, Europe, and the world. During the eight-day program, they will learn from regional and global experts about transitional justice, memorialisation and historical narrative building, human rights, and the prevention of genocide and mass atrocities. This initiative is organised by the MIP's partners, the Post-Conflict Research Center (PCRC) and the Srebrenica Memorial Center.
MIP Youth Outreach Coordinator, Ms. Anisa Sućeska, provided an overview of the cases before the International Criminal Tribunal for the former Yugoslavia (ICTY) and the Mechanism that dealt with the crimes committed in Srebrenica in 1995. She also spoke about facts concerning the Srebrenica Genocide that were judicially established in these cases.
During the lecture, Ms. Sućeska presented the MIP's online exhibition Srebrenica: Timeline of a Genocide. This exhibition explains how the Genocide was planned and carried out, as told through the testimonies of survivors as well as insider witnesses from the Bosnian Serb Army, and provides visitors with the opportunity to gain knowledge about court findings in an accessible and interactive way.
The MIP's participation in the Srebrenica Youth School forms part of the Programme's efforts to support projects and events organised by civil society organisations that are active in the field of transitional justice in the region of the former Yugoslavia.
The aim of the MIP is to improve the knowledge and understanding of citizens and communities in the countries of the former Yugoslavia about the crimes committed during the conflicts of the 1990s, based on ICTY and Mechanism cases. The MIP is funded by the European Union and the Swiss Federal Department of Foreign Affairs.