MIP participates in opening ceremony for exhibition on Srebrenica Genocide in Tuzla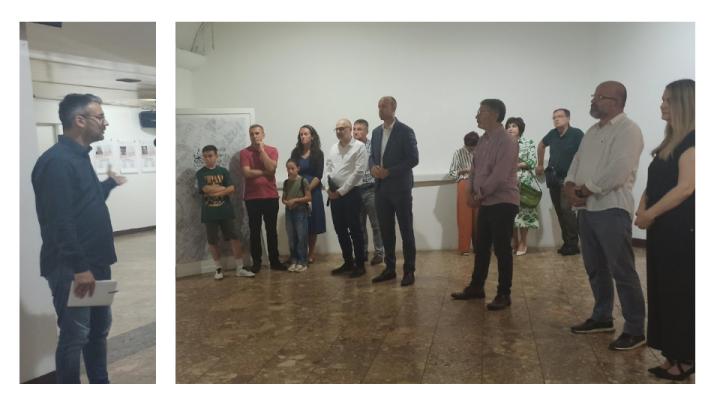 On 5 July 2022, a representative of the Mechanism Information Programme for Affected Communities (MIP) participated in the opening ceremony for an exhibition entitled The Genocide in Srebrenica Through Legal Judgements, produced by the Post-Conflict Research Center (PCRC), one of the MIP's partners from Bosnia and Herzegovina. The ceremony was organized by the PCRC and took place in the Bosnian Cultural Center in Tuzla.
MIP representative and researcher Mr. Nemanja Stjepanović gave opening remarks, during which he emphasised the importance of projects - such as the exhibition - that are based on judicially-established facts and court archives. He explained that the work of the MIP is based on the legacy of the International Criminal Tribunal for the former Yugoslavia (ICTY) and the Mechanism, and that the archival material of those courts is an important source from which to learn about the conflicts that took place in the region of the former Yugoslavia in the 1990s.
The founder and president of the PCRC, Ms. Velma Šarić, also gave a speech during the opening ceremony, as well as the Mayor of Tuzla, Ms. Jasmin Imamović, and the Minister of Education and Science of Tuzla Canton, Mr. Ahmed Omerović.
The MIP's participation in today's event formed part of the Programme's efforts to support projects and events organised by civil society organisations that are active in the field of transitional justice in the region of the former Yugoslavia.
The aim of the MIP is to improve the knowledge and understanding of citizens and communities in the countries of the former Yugoslavia about the crimes committed during the conflicts of the 1990s, based on ICTY and Mechanism cases. The MIP is funded by the European Union and the Swiss Federal Department of Foreign Affairs.