MICT celebrates International Archives Day
Mechanism
Press release
Arusha, The Hague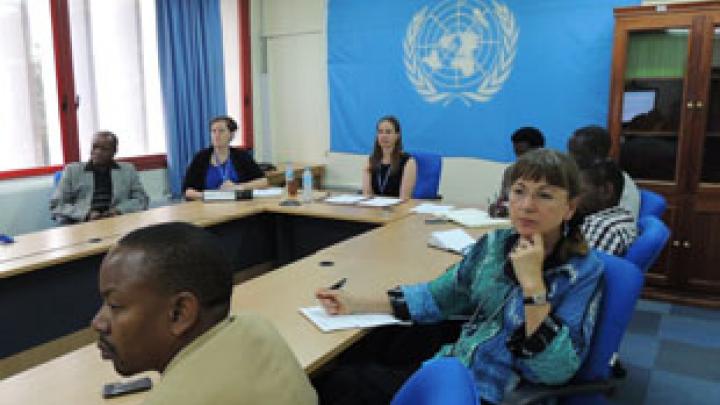 The Mechanism for International Criminal Tribunals (MICT) last week marked the seventh annual International Archives Day in collaboration with the International Criminal Tribunal for Rwanda (ICTR) and the International Criminal Tribunal for the former Yugoslavia (ICTY). The theme of this year's Day was 'Your Archives, Your Legacy: Celebrating Archives in Their Local Context'.
In the run-up to the celebrations, the MICT's Archives and Records Section (MARS) provided information on archives-related resources to staff from the MICT, the ICTR and the ICTY. On 9-10 June, MARS organised tours of the Records Repositories in both Arusha and The Hague for staff of the MICT and the two tribunals.
On 12 June, the celebrations culminated in a joint MICT/ICTR/ICTY event involving staff in Arusha and The Hague, conducted via video teleconference. The session involved presentations on the history of the Nuremberg Trials and Tokyo Trial archives, their legacies and their impact on the ICTR and the ICTY. Special guest speakers included Artur Brodowicz, Associate Librarian at the International Court of Justice, which serves as the repository for the official records of the proceedings at the Nuremberg Trials, and Kerry-ellen Canning, Associate Information Management Officer (Digital Records) for the ICTR.
The events highlighted the key role of archives and archivists in ensuring that the work of the ICTR, the ICTY and the MICT is preserved for the benefit of future generations.
Celebrated on 9 June each year, International Archives Day was established by the International Council on Archives as an opportunity for archival institutions, associations and professionals, as well as other stakeholders around the world to increase awareness of the importance of supporting the archives and the profession.