Mechanism Takes Custody of Archives and Records Centres at Arusha Branch
Mechanism
Press release
Arusha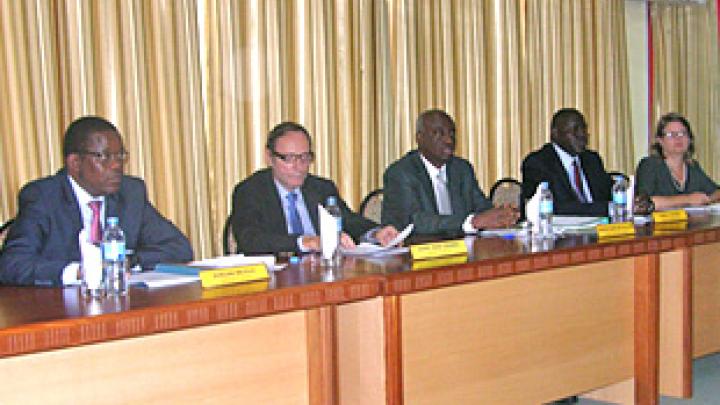 370 linear metres of records and two temporary records centres were handed over by the International Criminal Tribunal for Rwanda ("ICTR") to the Mechanism for International Criminal Tribunals ("Mechanism") on Tuesday, 17 September 2013. The ICTR continues to prepare a third temporary records storage centre due for completion shortly.
The two centres within the Arusha International Conference Center (AICC),consisting of a total of 175 square meters, have been designed to ensure that storage conditions meet established minimum requirements for the preservation of records.  The centres will be used by the Mechanism's Archives and Records Section for the storage of ICTR records and archives transferred to the custody of the Mechanism, which, in accordance with Article 27 of its Statute, shall be responsible for the management, including access and preservation, of the archives of the ICTR.
The handover ceremony included speeches by President Vagn Joensen of the ICTR, Registrar Bongani Majola of the ICTR, Prosecutor Hassan B. Jallow of the ICTR and the Mechanism, Ms. Karen Johnson and Mr. Samuel Akorimo, representatives from the offices of the President and Registrar of the Mechanism, respectively. The speakers underscored that the archives, a key component of the legacy of the ICTR, will continue to play a vital role in the fight against impunity and the advancement of international criminal justice. It was acknowledged that the ICTR Archives was short listed in 2005 for the UNESCO Jikji Prize of the 'Memory of the World' Programme. Speakers also congratulated the staff of both institutions for their hard work and commitment in establishing appropriate storage conditions for the continued preservation of these records. The ceremony concluded with a tour of the two records centres, which had previously been certified by the Mechanism's Archives and Records Section as meeting established requirements in terms of construction, security and safety and environmental conditions.
By the day of the handover ceremony, 370 linear meters of records, contained in over 1,100 boxes, had been transferred from the ICTR and fully accessioned by the Mechanism's Archives and Records Section. These records include over 10,000 video tapes and over 1 million pages of paper records, including both substantive and administrative records. The ICTR and the Mechanism will continue to collaborate on the transfer of records of long-term to permanent value, which will be stored in the records centres in the AICC building until the completion of the construction of Mechanism's purpose-built facility in Arusha, which is currently on schedule to be completed in 2016.