Mechanism Information Programme participates in conference marking 30 years since the establishment of the ICTY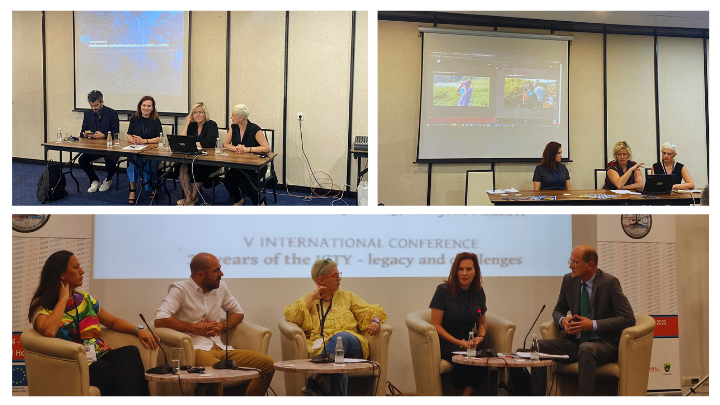 On 14 and 15 September 2023, the Mechanism Information Programme for Affected Communities (MIP) participated in a conference in Sarajevo, Bosnia and Herzegovina, entitled 30 Years of the ICTY – Legacy and Challenges, organised by the Association "Movement of Mothers of the Srebrenica and Žepa Enclaves" and the Association of Victims and Witnesses of Genocide.
During the course of this event, the MIP hosted a series of engagements to showcase its crucial work in upholding the legacy of the International Criminal Tribunal for the former Yugoslavia (ICTY) and the International Residual Mechanism for Criminal Tribunals (Mechanism), by presenting the public with fact-based accounts of crimes committed during the 1990s conflicts in the former Yugoslavia, and engaging directly with members of the affected communities.
A special side event was held on both days of the conference, during which the MIP presented its multifaceted initiatives and their impact on the affected communities. Ms. Nataša Damnjanović, the MIP's Video Producer and Mr. Nemanja Stjepanović, MIP Researcher, presented the Programme's video production and engagement on social media. MIP Youth Outreach Coordinator Ms. Anisa Sućeska presented some of the work of the MIP that specifically engages young people.
The MIP also presented its innovative youth outreach component to young participants of the conference during a dinner on the first evening. This provided a unique opportunity for MIP representatives to engage with youth from the region, discuss the importance of international criminal justice, and inspire the next generation to actively participate in reconciliation and peacebuilding efforts.
On the second day of the conference, MIP Coordinator Ms. Rada Pejić-Sremac participated in a panel discussion on the enduring significance of the ICTY's work and its practical applications. The other participants of the panel included: Ms. Elma Hašimbegović, Director of the Historical Museum of Bosnia and Herzegovina; Ms. Sanja Petrović Teodosijević, Senior Research Associate at the Institute for Recent History of Serbia and a co-founder of the Centre for Yugoslav Studies; and Mr. Denis Džidić, Executive Director at the Balkan Investigative Reporting Network Bosnia and Herzegovina.
The MIP's participation in this conference forms part of the Programme's efforts to support projects and events organised by civil society organisations active in the field of transitional justice in the region of the former Yugoslavia.
The aim of the MIP is to improve the knowledge and understanding of citizens and communities in the countries of the former Yugoslavia about the crimes committed during the conflicts of the 1990s, based on the jurisprudence of the ICTY and the Mechanism. The MIP is funded by the European Union.