ICTR's 20th anniversary commemoration and website launch in The Hague
Mechanism
Press release
The Hague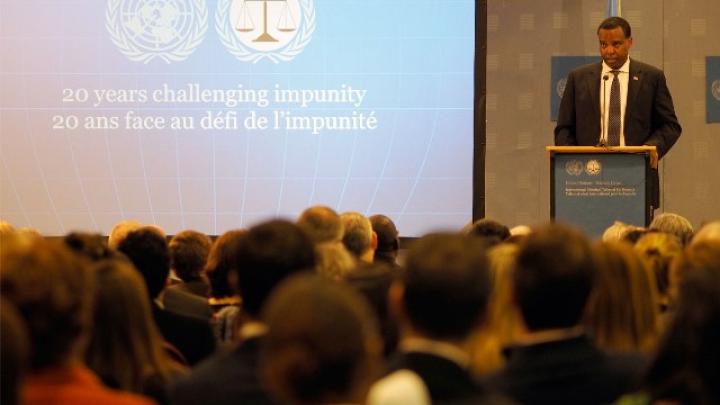 Today the International Criminal Tribunal for Rwanda (ICTR) celebrated the 20th anniversary of its establishment and presented its new legacy website in The Hague. The commemoration took place in the lobby of its sister tribunal, the International Criminal Tribunal for the former Yugoslavia (ICTY) in The Hague, which shares its premises with the Mechanism for International Criminal Tribunals (MICT).
The ICTR was established on 8 November 1994 by the UN Security Council, following the 1994 Rwandan genocide and is now expected to complete its mandate in 2015. Since 1 July 2012, and pursuant to the UN Security Council Resolution 1966, the Mechanism has assumed the ICTR's residual functions, including the enforcement of sentences and the potential trials of indicted fugitives. The Mechanism is responsible for the management and preservation of the extensive ICTR records, and well as for guarding its legacy once the ICTR closes its doors.
The 20th anniversary celebration was attended by the ICTR President Judge Vagn Joensen, ICTR and MICT Prosecutor Justice Hassan B. Jallow, ICTY Vice President Carmel Agius, ICTY Deputy Registrar Kate Mackintosh, who addressed the audience of some 100 people, including a number of dignitaries and representatives of governments and international organisations in The Hague.
Speaking at the event about the ICTR's work and achievements in the past 20 years, the ICTR President Judge Vagn Joensen noted that "although the ICTR is about to reach the end of its journey, it is important to never forget that the search for justice will continue after the closure of the ICTR through the Mechanism for International Criminal Tribunals which will continue the tremendous efforts that the United Nations started 20 years ago."
Reflecting upon the legacy of the ICTR, the ICTY Vice President Judge Carmel Agius stated that "the ICTR played an important role in paving the way for the establishment of other international courts and tribunals, and in strengthening the global system of international criminal justice."
Additionally, the ICTR's new website was revealed, and a short video located on the website which highlights the dramatic events that led to the creation of the ICTR shown. The new website plays a crucial role in preserving the legacy of the ICTR by ensuring access to information about the work of the ICTR.
This event in The Hague is part of a series of events which have been taking place in Arusha, Tanzania, Kigali, Rwanda and New York in the course of November and December of this year to mark the 20th anniversary of the ICTR.