Mechanism Principals' Statement on the Occasion of the Twenty-sixth Commemoration of the Genocide in Srebrenica
Mechanism
Press release
Arusha, The Hague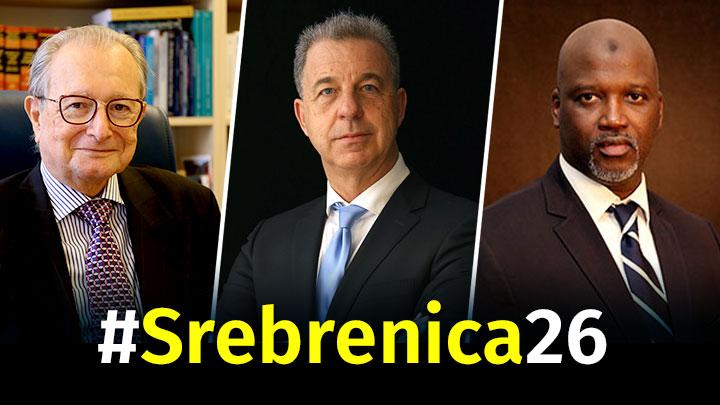 The International Residual Mechanism for Criminal Tribunals (Mechanism) today commemorates the twenty-sixth anniversary of the Srebrenica genocide. While time passes, the suffering of the victims does not and the memories of lost loved ones remain vivid.
On this day we, the Principals of the Mechanism, join those affected in remembering the horrors of the genocide in July 1995 and the agony of its aftermath. We commend the remarkable courage displayed by survivors and bereft families. We stand with them as they continue to pursue accountability and the truth.
Judges and staff at the International Criminal Tribunal for the former Yugoslavia (ICTY) and the Mechanism have worked tirelessly to bring perpetrators of the Srebrenica genocide to justice. Investigations in the months after the genocide led to a first indictment, confirmed on 16 November 1995. The first ICTY trial judgement to find that genocide was committed in Srebrenica was rendered almost 20 years ago, on 2 August 2001. Since then, this conclusion has been consistently confirmed by both the ICTY and the Mechanism, including most recently in the Appeal Judgement against Ratko Mladić, delivered last month.
The careful investigation and adjudication of the Srebrenica crimes leaves no room for interpretation. Those who dare to deny the genocide attempt to destabilize peace in the region. They are remnants of the then-prevailing atmosphere of impunity that resulted in the tragic events in Srebrenica. History will not judge them kindly.
While the Mechanism has now concluded its last case regarding Srebrenica, the journey towards justice for the victims is not over. It will be for the domestic judiciaries in the region of the former Yugoslavia to adjudicate the remaining war crimes cases, including those relating to Srebrenica. The Mechanism will continue to offer support to ensure that all perpetrators are held to account.
The events of July 1995 should serve as a stark warning to us all and must never be forgotten. Please join us today in commemorating the Srebrenica genocide.