Kenya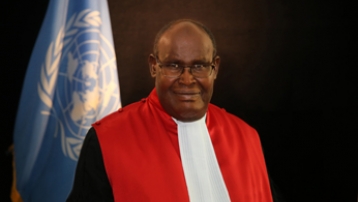 Judge Lee G. Muthoga, a Kenyan National, was born in 1945.
He had his education in Law at the University of East Africa, Dar es Salaam, where he graduated with a Bachelors Degree in Law in 1970.
He practiced law in Kenya (1971 – 2003) and rose to become Chairman of the Law Society of Kenya, President of the African Bar Association and held various offices in the professional and social life.
He qualified as a Fellow of the Chartered Institute of Arbitrators (CIArbs) and carried out many local and a number of International Arbitrations involving large local and international commercial operators.
Judge Muthoga was conferred the rank of Senior Counsel and was enrolled in the Roll of Honour of the Law Society of Kenya, in 2006.
In 2003, Judge Muthoga was elected an ad litem Judge of the International Criminal Tribunal for Rwanda, Arusha ("ICTR"), a position he held until 30 June 2012.
As such, he took part in the hearing of several cases such as:­
Prosecutor v. Casimir Bizimungu et al.; Prosecutor v. Mika Muhimana; Prosecutor v. Protais Zigiranyirazo; Prosecutor v. Leonidas Nshogoza; Prosecutor v. Dominique Ntawkulilyayo; Prosecutor v. Jean-Baptiste Gatete; Prosecutor v. Idelphonse Nizeyimana where he was the Presiding Judge.
He also participated in the hearing of several Rule 11bis applications seeking transfer of the case to a national jurisdiction such as:­
Prosecutor v. Laurent Bucyibaruta which was referred to France; Prosecutor v. Wenceslas Munyeshyaka also referred to France; Prosecutor v. Yussuf Munyakazi which was denied; Prosecutor v. Kayishema which was denied; Prosecutor v. Sikubwabo which was granted and Prosecutor v. Bernard Munyagishari, which was also granted.
In the year 2012, he was elected as a Judge of the Mechanism of International Criminal Tribunals where he is still serving to date.
Since leaving the ICTR in June 2012, he is engaged in Consultancy service as the Principal Consultant in the firm of Intellectual Resources Centre (E.A) Ltd, working in the area of Law, Justice and Constitution and also in training Judges and Magistrates at the Judiciary Training Institute of Kenya in Nairobi.
He is conversant in English and Kiswahili.