Spain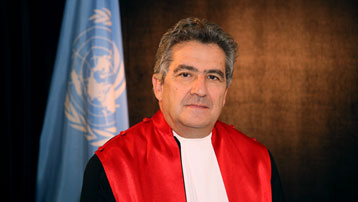 Jose Ricardo de Prada Solaesa was born in Madrid in 1957. He studied law at the Complutense University of Madrid where he graduated in 1980. He first worked as a lawyer until 1986 when he entered the Spanish judiciary as a Judge. In 1987 he completed the Diploma of the Institute of Human Rights of Strasbourg.
In 1988, Judge de Prada became a senior Judge (Magistrado) and in 1990 he entered the Criminal Division of the National Court of Spain (Sala de lo Penal de la Audiencia Nacional), a Criminal Court specialized in the investigation, trial, and appeal of serious organized crimes, international criminal law (genocide, war crimes, crimes against humanity and international jurisdiction), terrorist crimes, and highly dangerous corruption crimes with competence in the whole country. He was the reporting Judge in the Scilingo case (2005), a leading case in the implementation of universal jurisdiction in Spain, referring to crimes against humanity during the dictatorship in Argentina.
From 2005 to 2007 he was elected as an international Judge in the Appellate Division of the Chamber for War Crimes of Bosnia and Herzegovina (State Court). He participated in the appeal panel of Prosecutor v. Nikola Kovačević, Prosecutor v. Radovan Stanković, Prosecutor v. Boban Šimšić among other cases.
In 2007, he was awarded the Human Rights National Award of the Spanish Human Rights Association ("APDH").
In December 2011, Judge de Prada was appointed as an international Judge for the International Residual Mechanism for Criminal Tribunals.   
Judge de Prada has also participated as an international expert in diverse cooperation programmes in Latin American, North Africa and Sahel, and Eastern European countries for the improvement, strengthening and adaptation of the legal framework, judiciary system and practices, to the International legal standards for the Protection of Human Rights and Fundamental Freedoms (Colombia, Honduras, Costa Rica, Algeria, Rumania) and terrorism-rule of law in Sahel countries (Mali, Niger, Mauritania). He also participated in the implementation of international criminal law standards in the transitional justice process in Colombia (UE program on "Justicia y Paz" process and the current peace negotiation process with the FARC).
Between 2008 and 2011, Judge de Prada carried out doctoral studies on International Criminal Law at the Instituto Universitario Gutiérrez Mellado. Since 2014, he is a contact point of the European Network for investigation and prosecution of genocide, crimes against humanity, and war crimes. Judge de Prada has also given numerous lectures in public and private institutions and universities in Spain and aboard. He has participated in different investigations on criminal matters, especially in international criminal law, international humanitarian law, gender violence and international protection of human rights and fundamental freedoms, international Tribunals, international jurisdiction and terrorism. He has also published numerous works on different aspects of the criminal procedural law and criminal substantive law, especially on international criminal law and international protection of human rights.