United Kingdom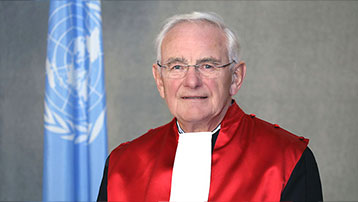 Born and educated in Scotland, Lord Bonomy was successively apprentice solicitor, solicitor, advocate, Queen's Counsel, first instance Judge of the Supreme Courts of Scotland, Judge of the International Criminal Tribunal for the Former Yugoslavia (ICTY) (2004-2009), Judge of the Court of Appeal in Scotland.
As Queen's Counsel he held the post of senior prosecuting counsel in Scotland and prosecuted many serious criminal cases. As a Judge in Scotland and The Hague he presided over trials in many serious, and some prominent, criminal cases. In Scotland he also sat in civil cases. As a member of the Court of Appeal he sat in criminal and civil appeals. He retired from his full-time judicial post in 2012. He continues to sit occasionally in serious criminals trials.
In Scotland in 2001-2002 and at the ICTY he chaired Working Groups which produced recommendations for improvements in the practice and procedure for serious and international criminal proceedings which were largely implemented.
Between 1998 and 2004 and then again between 2010 and 2017 he served as a Surveillance Commissioner for the United Kingdom, monitoring the deployment by the police and other law enforcement agencies of intrusive and sensitive surveillance practices. Since 2017 he has served as a Judicial Commissioner in the Office of the Investigatory Powers Commissioner.
In retirement he has undertaken three assignments for the Scottish Government. From June 2013 to May 2014 he chaired the Infant Cremation Commission, which examined the practices (many unsatisfactory) followed in dealing with the ashes of cremated babies and infants and produced comprehensive recommendations for improvement. Between June 2014 and April 2015 he chaired a Review of aspects of the rules of evidence and procedure in Scottish criminal prosecutions and reported on changes which should be considered if proposals to abolish the existing requirement for corroborated evidence were to be implemented. Afterwards, between January and October of 2015 he carried out a Review of the effectiveness of the Protection of Wild Mammals (Scotland) Act 2002. More recently, from December 2019 to September 2020 he served as part of the Group of Independent Experts appointed to review the International Criminal Court and provide concrete, achievable and actionable recommendations aimed at enhancing the performance, efficiency and effectiveness of the Court and the Rome Statute system.