Registrar Abubacarr M. Tambadou concludes official visit to Rwanda
Registrar
Press release
Arusha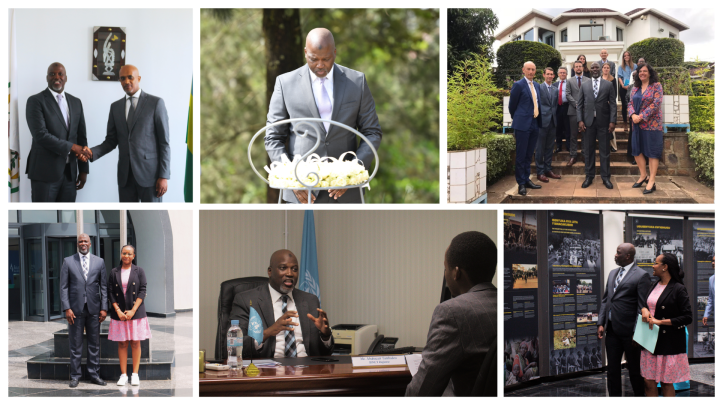 The Registrar of the International Residual Mechanism for Criminal Tribunals (IRMCT or Mechanism), Abubacarr M. Tambadou, today concluded an official mission to the Republic of Rwanda from 2 to 4 May 2023.
While on mission during the official mourning period of the 1994 Genocide against the Tutsi in Rwanda, Registrar Tambadou began by visiting the Gisozi Genocide Memorial to lay a Wreath and pay tribute to the victims. Subsequently, he held high-level meetings with several senior government officials. The Registrar also held an informal stakeholder briefing at the Kigali Field office.
Registrar Tambadou paid tribute to victims and survivors by also laying a Wreath at the Nyanza Genocide Memorial and met with representatives from IBUKA, an umbrella association of Genocide survivor organisations in Rwanda. He spent time with victims and listened to their concerns, particularly regarding public access to the Mechanism's work. 
During the various meetings, the Registrar provided updates on the status of the trial against Félicien Kabuga and other judicial matters, discussed issues related to the Mechanism's continuous functions such as the enforcement of sentences, protection of victims and witnesses, and management of the archives, as well as other matters of mutual interest, including areas for future cooperation. He also discussed several measures to increase public access to the Mechanism's work.
Registrar Tambadou was re-appointed by the United Nations Secretary-General António Guterres as Registrar of the Mechanism effective 1 July 2022.