Prosecutor Brammertz's address to the UN Security Council
Prosecutor
Press release
Arusha, The Hague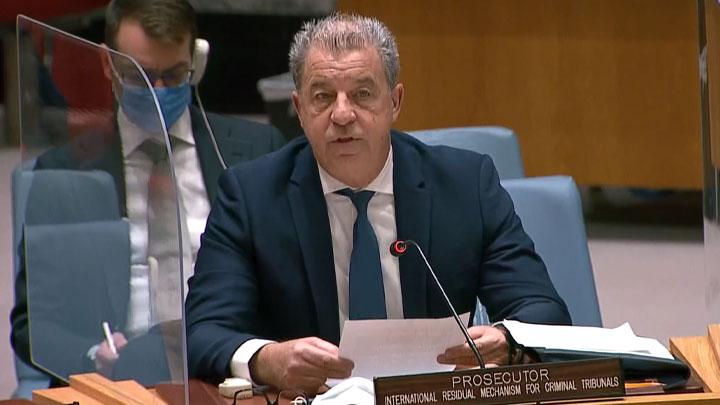 Serge Brammertz, Prosecutor of the International Residual Mechanism for Criminal Tribunals (Mechanism), today addressed the United Nations Security Council.
He began by updating the Security Council on the progress of trials and appeals, including convicting trial judgments in Stanišić and Simatović and Nzabonimapa et al. The Prosecutor further reported that the Office of the Prosecutor (OTP) achieved key pre-trial milestones in the Kabuga case. He noted, "The prosecution of the Kabuga case will be among our most important activities in the coming period, and we look forward to the commencement of the trial."
Turning to the search for the remaining fugitives, Prosecutor Brammertz recalled that the OTP's most wanted fugitive is Protais Mpiranya, the former commander of the Rwandan Presidential Guard, while also actively working to locate and account for five other fugitives indicted for genocide, including Fulgence Kayishema, who was previously located in South Africa.
The Prosecutor briefed the Council that the OTP continues to achieve significant progress into the whereabouts of the remaining fugitives, and that the coming period will be of decisive importance. He noted that the success of these efforts depends on the full and effective cooperation of Member States, including Zimbabwe and South Africa.
Regarding Zimbabwe, Prosecutor Brammertz explained that he had recently undertaken a mission to Harare, where he met with Vice President Chiwenga and other senior officials, who reaffirmed Zimbabwe's unreserved commitment to assist the OTP. He said that while he had not yet received a response to important requests sent to Zimbabwe, "I trust that in the coming period, I will be able to report that Zimbabwe is providing full and effective cooperation."
With respect to South Africa, the Prosecutor reported that "the situation with South Africa is among the most severe instances of non-cooperation my Office has faced since the Mechanism's establishment." He explained that the OTP had recently submitted another urgent request for assistance, which would be discussed at the highest levels of the South African Government. He said, "Unfortunately, I am unable to provide a more positive update today. South Africa is still failing to adhere to its international obligations."
Finally, Prosecutor Brammertz briefed the Security Council about issues related to war crimes justice in Rwanda and the former Yugoslavia. He noted that the OTP continues to receive many requests for assistance from prosecutors, including the Prosecutor General of Rwanda, the Montenegro Special State Prosecutor's Office and the War Crimes Prosecutor's Office of Serbia.
The Prosecutor further reported on continuing denial of crimes and glorification of génocidaires and war criminals. He noted, "Murals of Ratko Mladić in Belgrade and the publications of extremist Rwandan diaspora groups have one sad thing in common. They demonstrate that today, more than twenty-five years later, there are still those who deny, relativize and minimize the judicially-established facts of genocide, crimes against humanity and war crimes."