President Meron presents fifth Annual Report to the United Nations General Assembly
President
Press release
Arusha, The Hague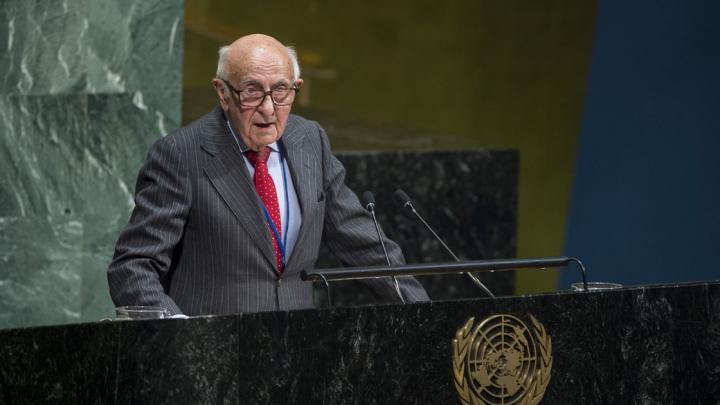 President Theodor Meron yesterday presented the fifth Annual Report of the Mechanism for International Criminal Tribunals (MICT or Mechanism) to the United Nations General Assembly, highlighting the important developments in the Mechanism's work over the past 12 months.
In commencing his address, President Meron recalled that the Mechanism was established in recognition of crucial responsibilities of the International Criminal Tribunal for Rwanda (ICTR) and the International Criminal Tribunal for the former Yugoslavia (ICTY), and noted that these responsibilities would continue and must be honoured even after the closure of the ICTR and the ICTY.
The President referred in particular to the Mechanism's responsibilities towards protected victims and witnesses, convicted persons serving their sentences, and national jurisdictions seeking to ensure accountability for crimes committed in Rwanda and the former Yugoslavia. "These are solemn undertakings. If we at the Mechanism were to fail to meet these residual responsibilities, it would not simply be a failure for the legacies of the ICTR and ICTY. It would be a failure for international justice, risking the unraveling of all that has been built over the last quarter century", he noted.
Turning to the Mechanism's judicial activities, President Meron reported on the start of the retrial in the Stanišić and Simatović case in June this year and the resumption of the review proceedings in the Ngirabatware case. The President further noted that the Mechanism's Appeals Chamber remains seised of appeals in the cases of Karadžić and Šešelj, and he advised that a hearing in the latter case has been scheduled for 13 December. The Appeals Chamber also stands ready to conduct further appeals proceedings, if any, in the Mladić case following the rendering of the ICTY trial judgement anticipated next month.
Recalling the imminent closure of the ICTY at the end of this year, President Meron reiterated the Mechanism's gratitude to staff of both the ICTR and the ICTY for their work in supporting the Mechanism during the institutions' co-existence. President Meron further emphasized the importance of Member States' continued support and cooperation in ensuring "the successful, timely and efficient completion of the Mechanism's mandate". 
Finally, President Meron assured the General Assembly that although the Mechanism is entering a period of peak judicial activity, it is "already planning for the steps necessary to scale down thereafter", in accordance with its mandate as a small and temporary institution.