President Meron meets with UN Secretary-General Ban Ki-moon
President
Press release
Arusha, The Hague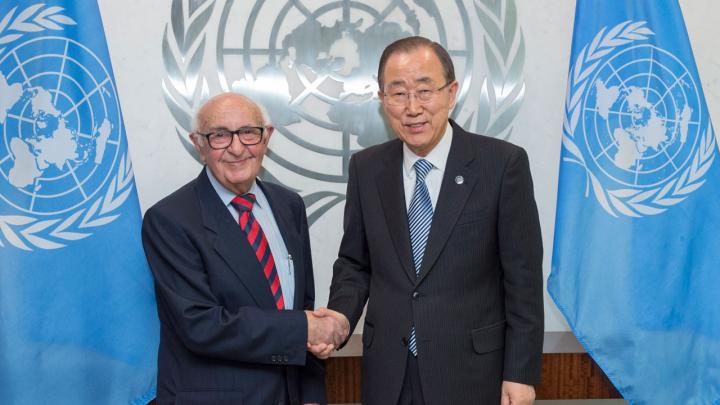 Judge Theodor Meron, President of the Mechanism for International Criminal Tribunals ("MICT"), yesterday met with the Secretary-General of the United Nations, Ban Ki-moon.
During the meeting, which took place at UN headquarters in New York, President Meron expressed his appreciation to the Secretary-General for his sustained commitment to the success of international justice over the course of the past decade and for his leadership in giving a voice to victims of horrific crimes.
Noting that it was during the Secretary-General's terms in office that the Mechanism was first conceived and rendered operational, President Meron underscored that the Secretary-General's involvement and support have been integral to the Mechanism's achievements to date. The President also briefed the Secretary-General as to the steps being taken to ensure that the Mechanism can be a powerful model of a new, lean, and cost-effective approach to international justice.
President Meron then took the opportunity to draw the Secretary-General's attention to a serious matter impacting upon the Mechanism's ability to carry out its mandate, involving the detention of Judge Aydin Sefa Akay, of Turkey, by Turkish authorities. President Meron observed that the Mechanism's Statute provides that its judges have diplomatic immunity when engaged on the business of the Mechanism and that, in light of this, Turkey's arrest and ongoing detention of Judge Akay breaches its international obligations. Noting that Judge Akay's detention appears to be the first case ever involving the arrest and detention of an international criminal judge, President Meron expressed his grave concern to the Secretary-General regarding the situation and stated that unless this matter is resolved through the speedy release of Judge Akay, it will establish a dangerous precedent for the rule of law, for the principle of judicial independence, and for international justice.
President Meron is in New York this week to present the fourth Annual Report of the Mechanism to the UN General Assembly, to brief representatives of civil society on the work of the Mechanism, and to hold discussions with Members of the UN Security Council.