President Meron meets delegation from the National Human Rights Commission of the Republic of Korea
President
Press release
The Hague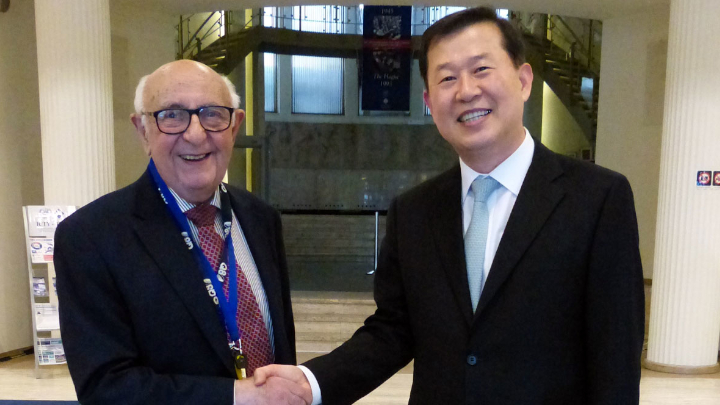 The President of the Mechanism for International Criminal Tribunals ("MICT" or "Mechanism"), Judge Theodor Meron, on Friday met with a delegation from the National Human Rights Commission of the Republic of Korea ("NHRCK"), including the Chairperson of the NHRCK, Mr. Sung-ho Lee, the NHRCK's International Cooperation Team Director, Mr. Hyoung-seok Cho, and the International Cooperation Team Deputy Director, Mr. Yun-kul Jung. The Ambassador of the Republic of Korea to the Netherlands, H.E. Jong-hyun Choe, and the Embassy's Counsellor, Mr. Jong-sun Kang, also took part in the meeting. Judge Seon‑ki Park, a Judge of the Mechanism from the Republic of Korea, joined President Meron in welcoming the delegation.
The meeting, which took place at the Hague branch, was an opportunity to present to the NHRCK the work of the Mechanism. Attendees also discussed the role of international courts and other accountability mechanisms in the protection and promotion of human rights and areas of potential cooperation.
The NHRCK was established in 2001 with the mandate to promote and protect human rights, as codified in international human rights conventions and treaties to which the Republic of Korea is a signatory.