President Meron addresses the UN Security Council
President
Press release
Arusha, The Hague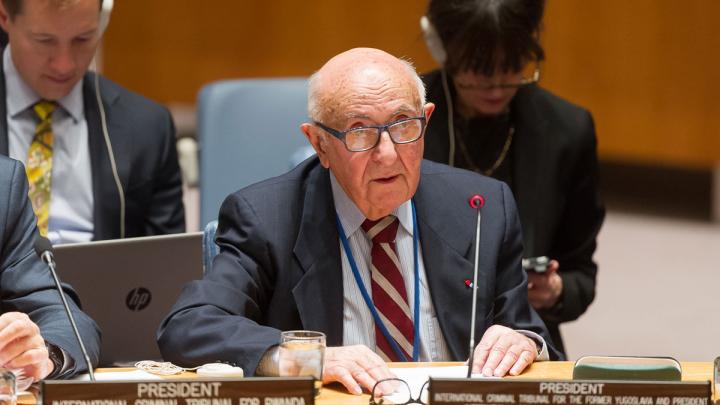 The President of the Mechanism for International Criminal Tribunals (MICT), Judge Theodor Meron, today updated the United Nations Security Council on the work and progress of the Mechanism in the past six months.
The President first reported to the Security Council on the progress of the Mechanism in carrying out its judicial work and confirmed that, in line with previous forecasts, the first appeal judgement will be delivered later this month in Arusha. He underscored that the Mechanism stands ready to adjudicate any appeals from the four trials currently ongoing at the ICTY, whilst it is also undertaking all necessary measures to ensure readiness in case of arrest of the three remaining ICTR fugitives expected to be tried by the Mechanism.  
President Meron also noted that the responsibility for a variety of functions of the ICTR and ICTY, including witness protection, enforcement of sentences, monitoring of referred cases, and preservation of archives, has been transferred or is being transferred to the Mechanism.
The President then turned his attention to two challenges that the Mechanism is facing. He first expressed his concern about the outstanding arrest warrants for the remaining ICTR accused, including three who are expected to be tried by the Mechanism. Having all indictees fully accounted for would serve as "confirmation of the international community's commitment to justice and accountability", he said. The President urged the Council to renew its call to all Member States to cooperate on this matter.
He then raised the question of resettlement for the persons acquitted by the ICTR and the released individuals who served their sentences imposed by the ICTR. The President underlined that this question of resettlement represents "…a crucial matter of humanitarian concern for the international community." He noted that given the small number of such individuals, just a few States stepping forward could address the problem.
President Meron observed that these challenges should not obscure the real progress achieved in launching both branches of the Mechanism and the smooth transitioning of its responsibilities, in line with the Security Council timeline.
In closing, the President thanked the members of the Security Council for their continued support and commitment. He underscored that the Mechanism and other international tribunals are "…a testament to the international community's dedication to creating a world where the rule of law is supreme."