President Gatti Santana welcomes the Mayor of The Hague, Mr. Jan Van Zanen, to the Mechanism's Hague branch
President
Press release
The Hague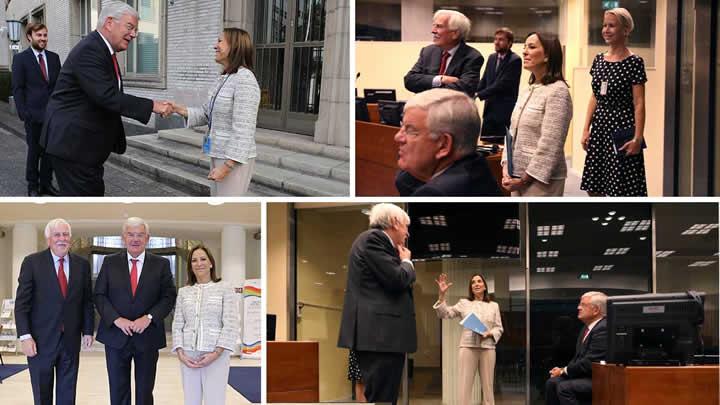 The President of the International Residual Mechanism for Criminal Tribunals (Mechanism), Judge Graciela Gatti Santana, today welcomed the Mayor of The Hague, Mr. Jan van Zanen, to the Mechanism's Hague branch. In hosting Mayor van Zanen, President Gatti Santana was joined by the Mechanism's long-serving Judge from the Kingdom of the Netherlands, Judge Alphons Orie.
At the outset, President Gatti Santana expressed her wholehearted gratitude to the Kingdom of the Netherlands, and in particular the Municipality of The Hague, for being a superb host to the Mechanism and the International Criminal Tribunal for the former Yugoslavia (ICTY), as well as for its unwavering commitment to international peace and justice. She also thanked Mayor van Zanen for his personal support in matters of importance to the successful functioning of the Mechanism.
The President then provided Mayor van Zanen with an overview of the many ongoing activities at the Mechanism's Hague branch. These include the preparations for the trial in Prosecutor v. Félicien Kabuga, which is scheduled to start in two weeks' time, and the appeal proceedings in Prosecutor v. Jovica Stanišić and Franko Simatović, in which President Gatti Santana will preside over a Status Conference on 22 September. Following this briefing, Judge Orie offered insights gleaned from his experiences as a Judge of the Mechanism and the ICTY and a member of the international community in The Hague, as well as a long-time resident of the Municipality. Mayor van Zanen expressed his strong support for the Mechanism and his appreciation for the contributions that international legal institutions make to the character of The Hague, emphasising that the Municipality's hands remain open to work together with the Mechanism for the benefit of both partners.
In addition, President Gatti Santana and Mayor van Zanen discussed ways in which collaboration between the Mechanism and the Municipality could be further developed, including with respect to commemorating the legacy of the Mechanism and the ICTY at a suitable location, and information-sharing with other international organisations in The Hague. Following their discussion, President Gatti Santana and Judge Orie accompanied Mayor van Zanen while he received a tour of the Mechanism's courtroom in The Hague.
This was the first meeting between President Gatti Santana and Mayor Van Zanen. President Gatti Santana assumed the Presidency of the Mechanism on 1 July 2022.