President Gatti Santana concludes official visit to Rwanda on the occasion of Kwibuka29
President
Press release
Kigali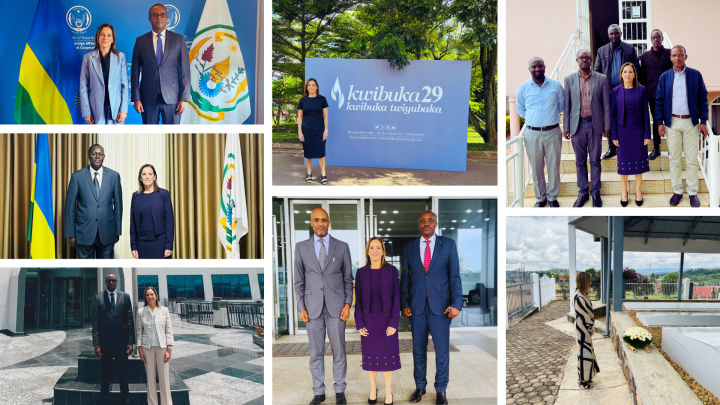 The President of the International Residual Mechanism for Criminal Tribunals (Mechanism), Judge Graciela Gatti Santana, today concluded her official visit to the Republic of Rwanda (Rwanda). The visit took place on the occasion of the Twenty-Ninth Commemoration of the 1994 Genocide against the Tutsi in Rwanda (Kwibuka29).
President Gatti Santana started her five-day mission with a visit to the Kibeho Genocide Memorial, where she paid her respects to the victims of the 1994 Genocide against the Tutsi in Rwanda who are buried there. She described this experience as "very moving", emphasising the importance of continuing to honour the memory of the victims and stand up against denial of the Genocide.
While in Kigali, President Gatti Santana met with a number of high-level Rwandan Government officials, including the Minister of Foreign Affairs and International Cooperation, His Excellency Dr. Vincent Biruta, and the Minister of National Unity and Civic Engagement, His Excellency Dr. Jean-Damascène Bizimana. She also held a productive joint meeting with the Minister of Justice and Attorney General, the Honourable Dr. Emmanuel Ugirashebuja, and the Prosecutor General, Mr. Aimable Havugiyaremye. In addition, President Gatti Santana had the pleasure of meeting with the Honourable Chief Justice and President of the Supreme Court of Rwanda, Dr. Faustin Ntezilyayo.
During her various interactions with the Rwandan officials, President Gatti Santana provided updates on the Mechanism's activities and its plans for the future, and emphasised the institution's ongoing commitment to ensuring accountability for the crimes committed during the 1994 Genocide against the Tutsi in Rwanda. The discussions focused on the case against Mr. Félicien Kabuga, public access to the Mechanism's work, opportunities for knowledge sharing, the enforcement of sentences and other post-conviction matters, as well as developments in cases from the International Criminal Tribunal for Rwanda that were referred to the national courts of Rwanda.
President Gatti Santana also met with representatives from IBUKA, an umbrella association of Genocide survivor organisations in Rwanda, where she engaged directly with victims and took note of their specific concerns in relation to the Mechanism's work. President Gatti Santana reiterated the important role that victims and witnesses have played in enabling the Mechanism, and its predecessor Tribunals, to deliver justice.
President Gatti Santana concluded her mission by taking part in today's official Kwibuka29 Commemoration in Kigali, which marked 29 years since the beginning of the 1994 Genocide against the Tutsi in Rwanda.
President Gatti Santana assumed the Presidency of the Mechanism on 1 July 2022.