President Gatti Santana concludes first official visit to Rwanda
President
Press release
Arusha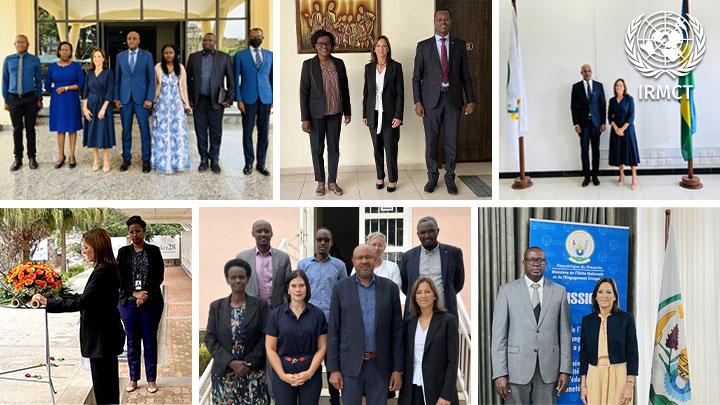 The President of the International Residual Mechanism for Criminal Tribunals (Mechanism), Judge Graciela Gatti Santana, today concluded her first official visit to the Republic of Rwanda (Rwanda).
During her four-day visit, President Gatti Santana met with high-level Rwandan Government officials including H.E. Dr. Emmanuel Ugirashebuja, Minister of Justice and Attorney General, and H.E. Dr. Jean‑Damascène Bizimana, Minister of National Unity and Civic Engagement, and in addition had the privilege to greet H.E. Dr. Vincent Biruta, Minister of Foreign Affairs and International Cooperation. President Gatti Santana also held meetings with the Hon. Justice Marie Thérèse Mukamulisa, Deputy Chief Justice of the Supreme Court of Rwanda, and the Hon. Justice François Regis Rukundakuvuga, President of the Court of Appeal. Another important exchange took place with Mr. Aimable Havugiyaremye, Prosecutor General of Rwanda's National Public Prosecution Authority and his team.
In her interactions with the Rwandan officials, President Gatti Santana provided an update on the Mechanism's current priorities and activities, and praised Rwanda's commitment to focussing on reconciliation, countering genocide denial, and continuing to honour the victims of the 1994 Genocide against the Tutsi in Rwanda.
Other points of interest raised during the various meetings were the case against Félicien Kabuga before the Mechanism, the status of enforcement of sentences, and proceedings of the International Criminal Tribunal for Rwanda (ICTR) referred to national jurisdictions, including to Rwanda. President Gatti Santana expressed her gratitude for the longstanding support provided by Rwanda to both the Mechanism and the ICTR before it, and emphasised the importance of close cooperation between the Mechanism and the Government of Rwanda. In this regard, the President underscored her commitment to further strengthening the Mechanism's collaboration and open communication with the Rwandan Government and people.
In addition to her programme of official meetings, President Gatti Santana visited the Kigali Genocide Memorial, as well as the Ntarama, Nyamata and Nyanza-Kicukiro Genocide Memorials, to pay tribute to the victims of the 1994 Genocide against the Tutsi in Rwanda. She also met and held discussions with the President of IBUKA, Mr. Egide Nkuranga, and representatives of survivors' associations of the 1994 Genocide against the Tutsi in Rwanda.
Finally, President Gatti Santana spent time with Mechanism staff at the Kigali Field Office, where she was briefed on the specific work of the Office.
President Gatti Santana assumed the Presidency of the Mechanism on 1 July 2022.