President Gatti Santana concludes first official visit to Republic of Croatia
President
Press release
The Hague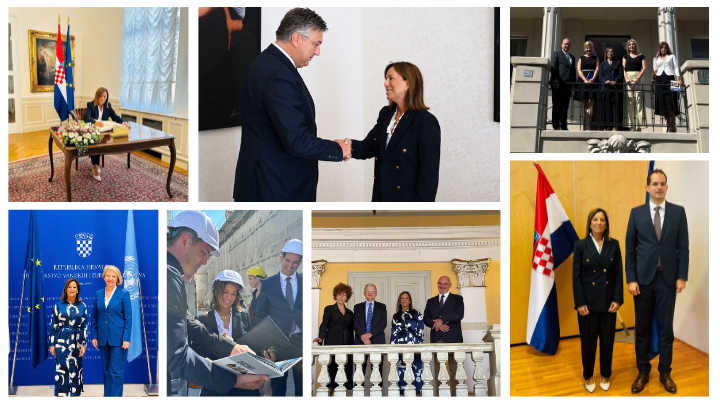 The President of the International Residual Mechanism for Criminal Tribunals (Mechanism), Judge Graciela Gatti Santana, has concluded an official visit to the Republic of Croatia (Croatia).
President Gatti Santana was pleased to be able to meet with high-level officials from the Croatian Government, including Prime Minister Andrej Plenković; Minister of Justice and Public Administration Ivan Malenica; and State Secretary for Europe at the Ministry of Foreign and European Affairs Andreja Metelko-Zgombić. The Croatian Ambassador to the Kingdom of the Netherlands, Dubravka Plejić Marković, was in attendance throughout, while State Secretary at the Ministry of Justice Vedrana Šimundža-Nikolić also participated in certain elements of the official programme. 
In addition, President Gatti Santana had the honour of meeting with the President of the Supreme Court of Croatia, Judge Radovan Dobronić, together with the Vice-President, Judge Gordana Jalšovečki, and the President of the Criminal Law Department of the Court, Judge Dražen Tripalo.
During her various meetings, President Gatti Santana provided an update on the status of the Mechanism's judicial caseload and other mandated functions. She outlined the Mechanism's current priorities and future-planning activities, which aim to respond to Security Council resolution 2637 (2022) and are taking place in the context of the upcoming fifth review of the Mechanism's progress of work by the Council. The President explained that, as part of this process, the Mechanism is also undergoing an evaluation by the United Nations Office of Internal Oversight Services. 
The President emphasised the importance of consolidating the Mechanism's legacy and that of its predecessor Tribunals, now that the core crimes trials and appeals are essentially over. Against this backdrop, she indicated that the Mechanism is keen to finalise negotiations on the proposed Information Centre on the International Criminal Tribunal for the former Yugoslavia, to be located in Zagreb, and expressed hope that this Centre could be established in the near future. Separately, President Gatti Santana took the opportunity to address latest developments in the Mechanism's work, including her recent decision to release a convicted person on the basis of strict conditions, as well as robust guarantees from the Republic of Serbia, and subject to monthly reports by an independent medical expert. 
As part of the official programme, President Gatti Santana was shown a potential location for the proposed Information Centre. Accompanied by Minister Ivan Malenica, she also toured the city and paid a visit to Zagreb Cathedral, which is under reconstruction following the earthquake that struck the city in 2020.
This was President Gatti Santana's first official visit to Croatia since assuming the Presidency of the Mechanism on 1 July 2022.