President Agius opens exhibition in Pula on crimes committed in Ahmići
President
Press release
The Hague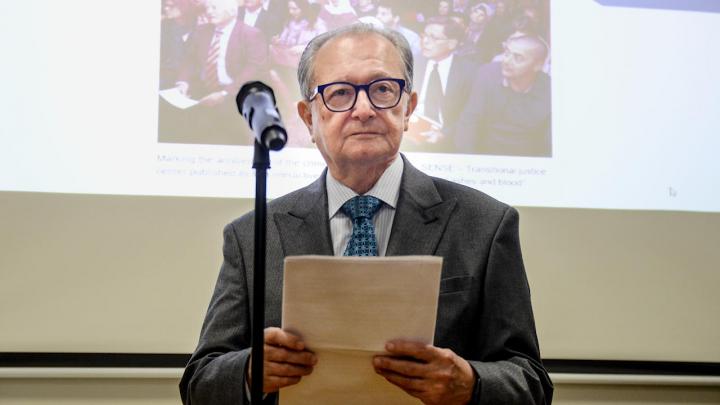 The President of the International Residual Mechanism for Criminal Tribunals (Mechanism), Judge Carmel Agius, today opened an exhibition at the SENSE Transitional Justice Center in Pula, Croatia, focusing on the crimes committed in Ahmići, Central Bosnia in April 1993.
The exhibition, part of an interactive narrative entitled "Ahmići: 48 Hours of Ashes and Blood", was produced by the SENSE Transitional Justice Center and features photographs taken in April 1993 in Ahmići by Mr Giles Penfound, then a photographer with the UNPROFOR British Battalion based in Vitez, Bosnia and Herzegovina.
In his remarks, President Agius emphasised that the exhibition "is a testament to the progress made since the 1990s" and that in looking back together "at a time of conflict and disunity, through an exhibition born out of collaboration and dialogue", we "remember these crimes and, what is more, we honour the victims".
President Agius further recalled that the crimes committed in Ahmići in April 1993 were addressed in a number of cases before the International Criminal Tribunal for the former Yugoslavia, which not only held to account both high-level military commanders and rank-and-file officers, but also established an important historical record that Muslim civilians were deliberately persecuted in order to spread terror and "ethnically cleanse" Ahmići of its Muslim population. President Agius observed that these crimes took place within the context of a broader series of attacks where "over a number of months, the world laid witness to a series of persecutory violence against homes, lives, and the very fabric of our humanity".
The opening of the exhibition also featured remarks from the former President of Croatia, Mr Stjepan Mesić.
"Ahmići: 48 Hours of Ashes and Blood" may be viewed online at https://ahmici.sensecentar.org. It has also been launched at Ahmići Primary School, as well as in Sarajevo through the SENSE Transitional Justice Center's joint efforts with the History Museum of Bosnia and Herzegovina.
On the occasion of the launch of the exhibition, President Agius visited the Pula City Hall where he discussed issues of relevance to the Mechanism with local representatives including the President of the City Council, Mr Tiziano Sošić, and the Head of the Department of Culture of the Istrian region, Mr Vladimir Torbica.