President Agius Concludes First Visit to Tanzania as President of the Mechanism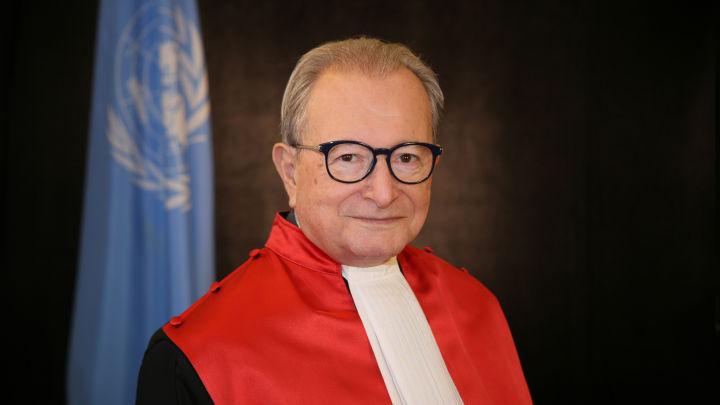 On 8 March 2019, the President of the International Residual Mechanism for Criminal Tribunals (Mechanism), Judge Carmel Agius, concluded his first visit to the United Republic of Tanzania (Tanzania) in his capacity as President. The visit took place on the occasion of the second in-person Plenary of Mechanism Judges, which was held at the Mechanism's Arusha branch on 4 and 5 March 2019.
Following the successful conclusion of the Judges' Plenary, President Agius spent a full day at the Mechanism premises on 6 March 2019 where he took the opportunity, together with the other Principals, to hold a Town Hall meeting with all staff. In addition, he met with Section Chiefs of the Registry and staff from the Office of the Prosecutor. President Agius also paid a courtesy call to the President of the African Court on Human and Peoples' Rights, Judge Sylvain Oré, where they discussed matters of mutual interest and relevance to the two institutions.
President Agius, together with Mechanism Registrar Olufemi Elias, subsequently travelled to Dar es Salaam where they met on 7 March 2019 with the Chief Justice of Tanzania, Professor Ibrahim Hamis Juma. During the meeting the President provided an update on the work of the Mechanism and the Chief Justice in turn informed them about the Judiciary of Tanzania's '5 years Strategic Plan' for reforms to the Tanzanian justice system.
On 8 March 2019, the President and Registrar held a Diplomatic Briefing for members of  the diplomatic corps accredited to Tanzania and representatives of international organisations, at the premises of the United Nations Development Programme in Dar es Salaam. During the briefing, which was attended by some 20 Ambassadors and other members of the diplomatic corps, President Agius and Registrar Elias provided an overview of the Mechanism's activities and answered questions from the audience.
The President's mission concluded with a press conference attended by the international and national press in Dar es Salaam, during which he and Registrar Elias informed members of the press about the progress of work at the Mechanism, its mandate and current challenges.
President Agius assumed the Presidency of the Mechanism on 19 January 2019, having been a Judge of the Mechanism since its inception in 2012. He previously served for 16 years as a Judge of the International Criminal Tribunal for the former Yugoslavia, including as its Vice-President (2011-2015) and final President (2015-2017).