One kilometre of ICTR records transferred to the Mechanism's Archives and Records Section
Mechanism
Press release
Arusha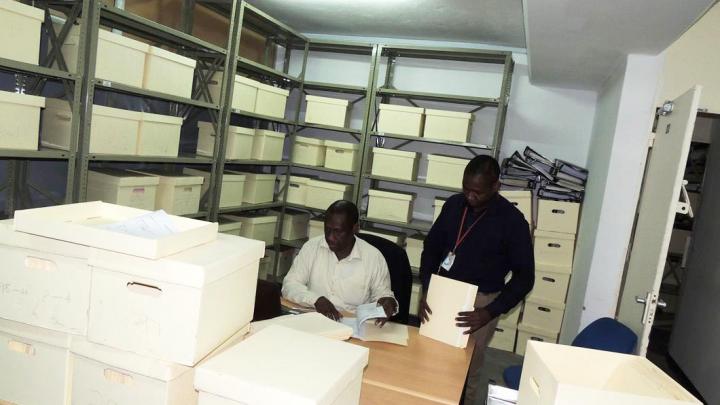 With the completion of the 96th transfer of records from the International Criminal Tribunal for Rwanda (ICTR) to the Mechanism for International Criminal Tribunals (MICT), the Mechanism Archives and Records Section (MARS) is now the custodian of over 1,000 linear metres of ICTR archives.
Linear metres describe the amount of shelf space required to store physical records, and are a standard unit used to measure the quantity of records managed by an archival institution.
Having passed the one-kilometre mark, MARS currently manages 62% of the ICTR records expected to be transferred to its custody.  In addition to over five million pages of paper, the records transferred so far include more than 25,000 audio-visual tapes of historic judicial proceedings, 125 large-format items and four artefacts.
The transfer process, which commenced in September 2013, is on track for completion by the end of 2015. The rigorous transfer procedures, which entail the close coordination of the ICTR and MARS, ensure that records remain secure, preserved and are prepared for public access. In early 2016, this collection will be moved to the MICT's new premises. The new facility's archives building will comply with international standards, and will feature a publicly accessible research room, in which users can consult the archives.
For more information, visit our archives page.