MIP presents its online exhibition on the Genocide in Srebrenica to the Holocaust Memorial Centre in Skopje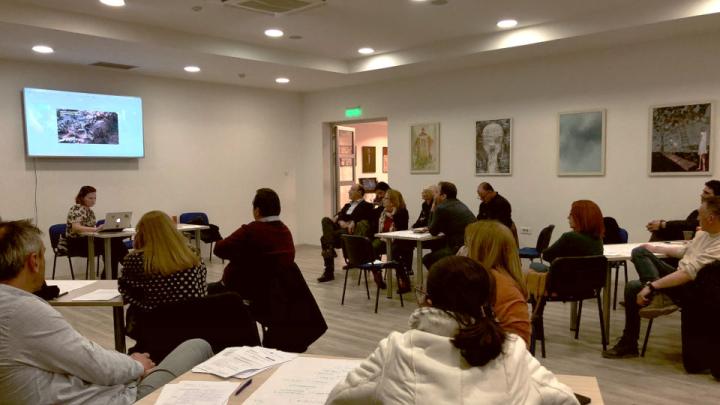 On 19 March 2022, Ms. Rada Pejić-Sremac, coordinator of the Mechanism Information Programme for Affected Communities (MIP), presented the MIP's online exhibition "Srebrenica: Timeline of a Genocide" to visitors of the Holocaust Memorial Center for the Jews of Macedonia (Holocaust Memorial) in Skopje, North Macedonia.
The event was opened by Mr Goran Sadikarijo, Director of the Museum of Holocaust in Skopje, and guests were also greeted by Mr Mire Mladenovski, Director of the Association of History Teachers in North Macedonia (ANIM).
Ms. Pejić-Sremac explained that the online exhibition provides an overview of the events that took place during the Genocide in Srebrenica in July 1995, based on facts that were judicially established in cases before the ICTY and the Mechanism. She also highlighted that, to date, the exhibition has reached a very large audience via the Mechanism's website and social media pages. Visitors were also shown a selection of short videos produced for the MIP's various social media campaigns.
During her remarks, Ms. Pejić-Sremac explained that the MIP aims to contribute to the processes of transitional justice and strengthening the rule of law in the Western Balkans region. She added that the MIP uses the archives and legacies of the ICTY and Mechanism, in particular the judgements issued by these institutions, to present fact-based accounts of the crimes committed during the 1990s conflicts in the former Yugoslavia.
The MIP is generously supported by the European Union and the Swiss Federal Department of Foreign Affairs.