MIP participates in panel discussion on conflict prevention at Srebrenica Youth School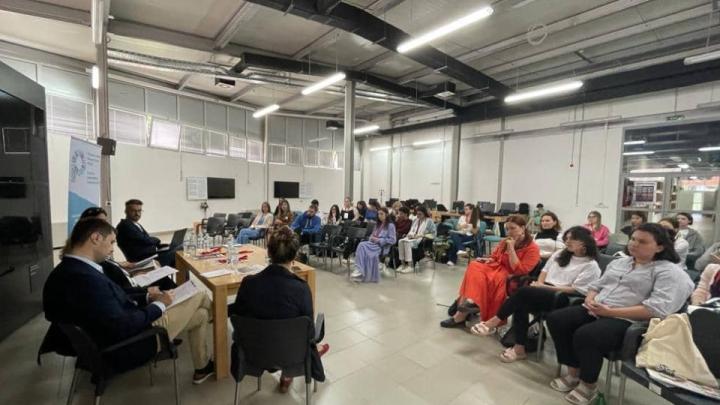 On 9 July 2022, the Mechanism Information Programme for Affected Communities (MIP) participated in a panel discussion entitled "International Responses to Violence Suppression & Prevention" as a part of the third Srebrenica Youth School, held in Srebrenica, Bosnia and Herzegovina (BiH). The third edition of Srebrenica Youth School brings together 50 young people from the Western Balkans, Europe, and the world to learn from regional and global experts about transitional justice, memorialisation and historical narrative building, human rights, and the prevention of genocide and mass atrocities. This initiative is organised by the MIP's partners, the Post-Conflict Research Center (PCRC) and the Srebrenica Memorial Center.
During his remarks, MIP Researcher Mr. Nemanja Stjepanović stated that dialogue about the past is an important step towards preventing future conflicts and a reoccurrence of the violence seen during the conflicts in the region of the former Yugoslavia in the 1990s. He emphasised the importance of the role and legacy of the International Criminal Tribunal for the former Yugoslavia (ICTY) and the Mechanism in that process, adding that such dialogue should focus on judicially established facts.
Mr. Stjepanović also presented some of the MIP's public information material, which is based on the Mechanism's archives, explaining that the legacy of the ICTY and the Mechanism represents a significant and inexhaustible platform for future academic, journalistic, and other research related to the 1990s conflicts.
Together with Mr. Stjepanović, Ms. Glorija Alić, National Program Officer for Human Rights at the OSCE Mission to BiH; Mr. Nihad Branković, Senior Program Officer at the International Commission on Missing Persons; and Firuze Handan Demir, Representative from the Delegation of the European Union to BiH, also took part in the panel discussion.
The MIP's participation in the panel discussion formed part of the Programme's efforts to support projects and events organised by civil society organisations that are active in the field of transitional justice in the region of the former Yugoslavia.
The aim of the MIP is to improve the knowledge and understanding of citizens and communities in the countries of the former Yugoslavia about the crimes committed during the conflicts of the 1990s, based on ICTY and Mechanism cases. The MIP is funded by the European Union and the Swiss Federal Department of Foreign Affairs.