MIP participates in the launch of the book "The first draft of history"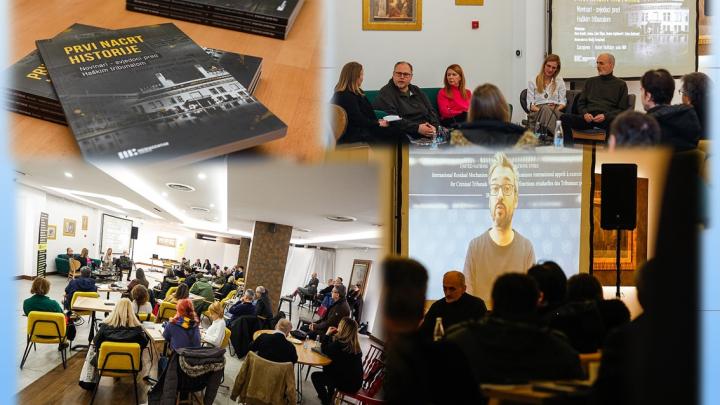 On 27 February 2023, the Mechanism Information Programme for Affected Communities (MIP) participated in a discussion regarding the launch of the book "The first draft of history: Journalists - Witnesses before the Hague Tribunal." The book was published by Mediacentar Sarajevo, which also organised the event.
In his pre-recorded remarks, MIP representative Mr. Nemanja Stjepanović spoke about the significance of the testimonies of journalists before the International Criminal Tribunal for the former Yugoslavia (ICTY) and the International Residual Mechanism for Criminal Tribunals (Mechanism). He also stressed the importance of the video and photo material that was brought before the ICTY and the Mechanism by journalists and admitted into evidence during different trials.
Taking part in the panel discussion alongside Mr. Stjepanović were: Ms. Marija Arnautović, Editor-in-chief at Mediacentar Sarajevo; Ms. Edina Bećirević, Professor of Law at the University of Sarajevo; Mr. Boro Kontić, Director of Mediacentar Sarajevo; Mr. Nedim Sejdinović, an independent journalist from Serbia; and Ms. Selma Zulić Šiljak, Project Coordinator at Mediacentar Sarajevo.
In addition to participating in this book launch, the MIP has supported Mediacentar Sarajevo by providing it with public archival material from the ICTY and the Mechanism, including audiovisual footage, photos and videos of journalists' testimonies.
MIP's participation in this discussion is part of its efforts to support projects and events organised by civil society organisations from the former Yugoslavia active in the field of transitional justice.
The aim of the MIP is to improve the knowledge and understanding of citizens and communities in the countries of the former Yugoslavia about the crimes committed during the conflicts of the 1990s, based on ICTY and Mechanism cases. The MIP is funded by the European Union.