MIP holds lecture on Srebrenica Genocide for young people from Serbia
Registry
News
Banja Koviljača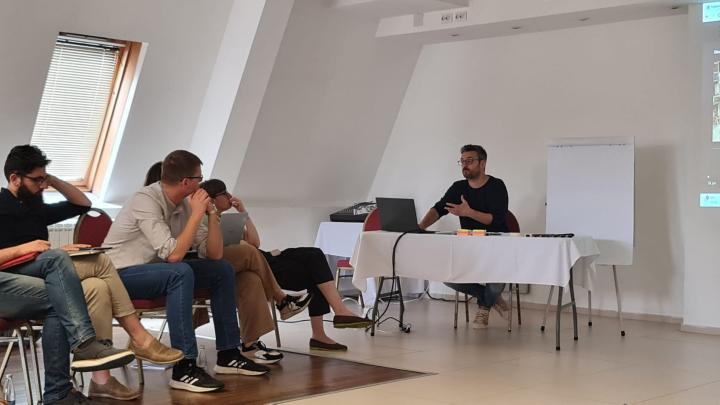 On 3 June 2023, the Mechanism Information Programme for Affected Communities (MIP) held a lecture for 30 students and young journalists from Serbia entitled "The Timeline of the Srebrenica Genocide". The lecture was part of the "Drina Summer School", organised jointly by the Youth Initiative for Human Rights Serbia, ForumZFD Serbia, and the Independent Journalists' Association of Vojvodina.
MIP researcher Mr. Nemanja Stjepanović provided an overview of the cases before the International Criminal Tribunal for the former Yugoslavia (ICTY) and the International Residual Mechanism for Criminal Tribunals (Mechanism) in which crimes committed in Srebrenica in 1995 were adjudicated. He also spoke about the facts concerning the Srebrenica Genocide that were judicially established in these cases.
During the lecture, Mr. Stjepanović presented an online exhibition prepared by the MIP, entitled "Srebrenica: Timeline of a Genocide". The exhibition is based on judicially established facts and is illustrated with photo and video exhibits that were admitted into evidence during the relevant trials before the ICTY and the Mechanism. Mr. Stjepanović's lecture served as an introduction to a visit by the students and journalists to the Srebrenica Memorial Center on 4 June.
More generally, this lecture forms part of the MIP's efforts to support projects and events organised by civil society organisations from the former Yugoslavia active in the field of transitional justice. The aim of the MIP is to improve the knowledge and understanding of citizens and communities in the countries of the former Yugoslavia about the crimes committed during the conflicts of the 1990s, based on ICTY and Mechanism cases. The MIP is funded by the European Union.