MICT Prosecutor Serge Brammertz makes first official visit to the United Republic of Tanzania and Rwanda
Office of the Prosecutor
Press release
Arusha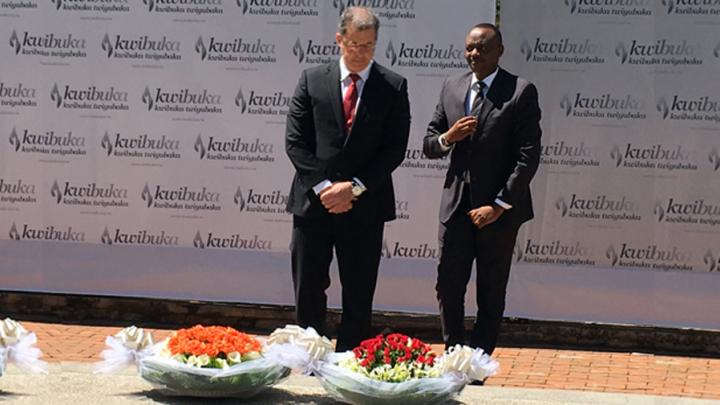 The Prosecutor of the Mechanism for International Criminal Tribunals (MICT), Mr Serge Brammertz, made his first official visit to the United Republic of Tanzania and Rwanda.
During his mission to Tanzania between 11 and 13 April 2016, the Prosecutor met with Government officials in Dar Es Salam, including Her Excellency the Vice President of the United Republic of Tanzania, the Chief Secretary in the President's Office, the Minister of Foreign Affairs, the Minister of Constitutional and Legal Affairs, and the Director of Public Prosecutions.
The Prosecutor thanked the Government and people of the United Republic of Tanzania for their long standing support to the ICTR and now the Arusha branch of the MICT and assured them of the continued cooperation of his office on matters of mutual interest. The Tanzanian officials requested the Prosecutor's support in transferring lessons learnt and best practices from the ICTR, ICTY and MICT to national judicial authorities in the United Republic of Tanzania and the region.
The Prosecutor's mission to Rwanda between 19 and 21 April coincided with the 22 anniversary commemoration of the 1994 Rwandan genocide against the Tutsis during which moderate Hutus and others who opposed the genocide were killed.  Prosecutor Brammertz met with Government officials in Kigali including the Chief Justice of Rwanda Professor Sam Rugege, the Minister of Justice Mr Johnston Busingye, and the Prosecutor General of Rwanda Mr Richard Muhumuza.
The Prosecutor held bilateral meetings and discussed a range of cooperation matters between the Office of the Prosecutor of the MICT and the Rwandan Government. Recognizing the credible results achieved by the International Criminal Tribunal for Rwanda in prosecuting those most responsible for the Rwandan genocide, Prosecutor Brammertz expressed his commitment to continue pursuing justice for the victims and survivors. The issue of the fugitives, particularly the three fugitives who will be tried by the MICT when arrested: Felicien Kabuga, Protais Mpiranya and Augustin Bizimana, featured prominently in the discussions and all the parties agreed to continue their collaboration in securing the arrest and trial of the fugitives.
Accompanied by the Prosecutor General of Rwanda Mr Richard Muhumuza, Prosecutor Brammertz also visited the Genocide Memorial Center in Gisozi where 250,000 victims are buried, and laid a commemorative wreath. He stated: "The truth of what happened during the genocide has been repeatedly established by the ICTR's Judgments. Yet today, some continue to deny the truth, and the ideology of genocide has not yet been extinguished. We must clearly and firmly reject genocide denial at all times and in all places. And we must teach future generations the dangers of genocide ideology so they do not have to suffer as this country did."
While at Gisozi, the Prosecutor met with the President of IBUKA, Professor Jean Pierre Dusingizemungu, who expressed satisfaction that the Prosecutor recognized the important role of victims in the justice process.