Mechanism Registrar Olufemi Elias addresses Srebrenica commemoration
Registry
Press release
The Hague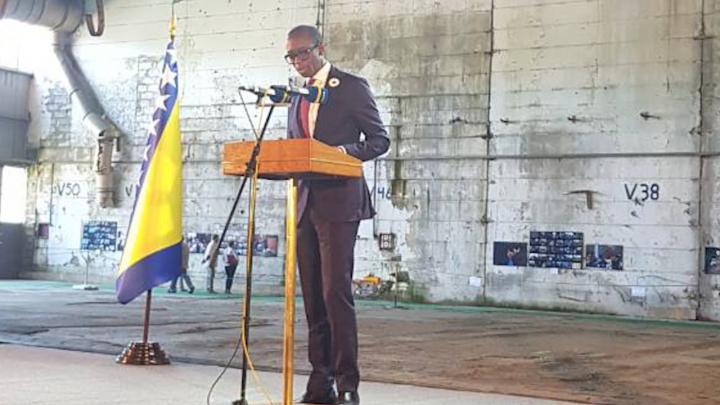 As part of the commemoration of the 23rd anniversary of the Srebrenica genocide, today, the Registrar of the International Residual Mechanism for Criminal Tribunals (Mechanism), Mr. Olufemi Elias, paid his respect to the victims and delivered remarks during the commemoration ceremony at the Potočari memorial in Bosnia and Herzegovina (BiH).
In his address, Registrar Elias highlighted the importance of ensuring accountability for the genocide that occurred in Srebrenica in 1995 and delivering justice to victims. He noted that while the Mechanism continues the remaining work, including some important cases it inherited from the International Criminal Tribunal for the former Yugoslavia (ICTY), it also provides assistance to national authorities in the former Yugoslavia who are now dealing with the remaining war crimes.  
Registrar Elias further emphasized the role that the Mechanism has in promoting and carrying forward the legacy of the ICTY and its contribution in uncovering what happened in Srebrenica 23 years ago. In this regard Registrar Elias stated: "The cases tried by the ICTY have contributed in a profound way to establishing what happened in Srebrenica in July 1995, how the genocide was committed and who is responsible for it. The Mechanism, as the Tribunal's successor, is dedicated to ensuring that the ICTY's legacy is not forgotten or disregarded after its closing, but that it remains impactful and that it provides a meaningful platform for the processes of facing the past in Srebrenica, in Bosnia and Herzegovina and the entire region of the former Yugoslavia."
He also noted that the archive of the ICTY, for which the Mechanism is responsible, including thousands of documents, artefacts, photographs and videos related to genocide in Srebrenica will enable the future generations to better understand these events, and hopefully learn from them and never again allow such evil to be repeated.
Registrar Elias concluded that "the Mechanism will do its part to ensure that the events of Srebrenica will not be forgotten and cannot be denied, that the perpetrators are held accountable, and that the memory of the victims is preserved."
Registrar Elias attended the commemoration in Srebrenica as part of his first official visit to BiH since his appointment as Registrar of the Mechanism in January 2017. This was also the first of a series of planned visits by Registrar Elias to the countries of the former Yugoslavia this year.