Mechanism OTP delivered advanced training on investigating and prosecuting sexual and gender based violence
Office of the Prosecutor
Press release
The Hague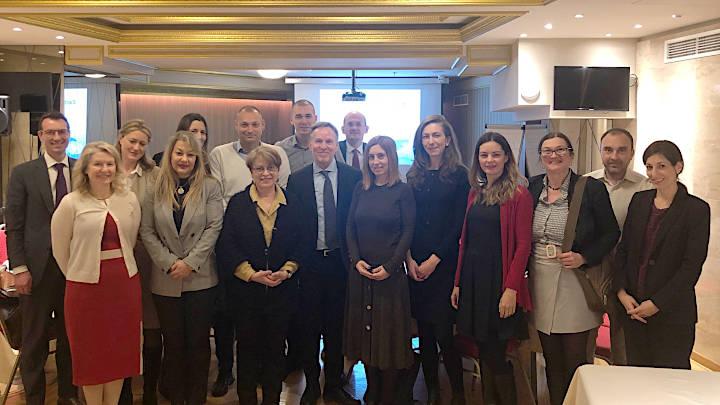 At the invitation of the Minister of Justice of Serbia, the Office of the Prosecutor of the International Residual Mechanism for Criminal Tribunals (Mechanism OTP), the War Crimes Prosecutor's Office of the Republic of Serbia (WCPO) and the Judicial Academy of Serbia jointly delivered an important advanced training on investigating and prosecuting sexual and gender based violence for the WCPO in Belgrade from 8 to 12 April 2019. Financial support was generously provided by the European Commission.
Participants from the WCPO, including recently-appointed deputy prosecutors and legal assistants, agreed that the training was a unique opportunity to improve practical skills and knowledge by benefiting from the expertise developed by the Mechanism OTP in this critical area. Participants had the opportunity to work through real-world challenges and practice in-court strategies together with their colleagues and Mechanism OTP experts.
Speaking at the conclusion of the training, Snežana Stanojković, the Chief War Crimes Prosecutor of Serbia, underscored her desire to build the capacity of her Office through strengthened cooperation with the Mechanism OTP. The Mechanism OTP representatives recognized the strong commitment of WCPO staff to achieve greater justice for victims of sexual violence and other crimes during the conflicts in the former Yugoslavia, and offered their full support to their Serbian colleagues.
This intensive five day peer-to-peer training course on prosecuting conflict-related sexual violence crimes included a series of exercises and group discussions developing a prosecution from investigation to appeal. Much of the curriculum was based on the OTP's legacy publication, "Prosecuting Conflict-Related Sexual Violence at the ICTY," which documents the experience of the OTP over the past two decades in seeking to establish accountability for conflict-related sexual violence crimes.
With financial support from partners, the Mechanism OTP intends to continue offering unique, advanced training programs and other capacity building initiatives for war crimes prosecutors in Serbia and throughout the Western Balkans.