Mechanism joins in commemorating the 22nd anniversary of the Rwandan genocide
Mechanism
Press release
Arusha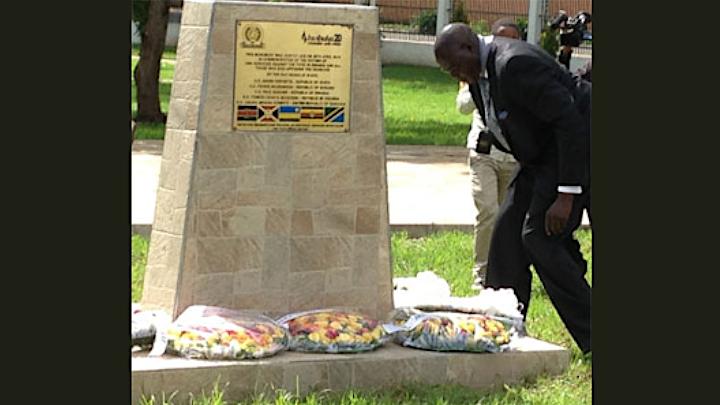 The Mechanism for International Criminal Tribunals (MICT) joins in the worldwide commemoration of the 22nd anniversary of the 1994 genocide against the Tutsi in Rwanda, during which Hutu and others who opposed the genocide were also killed.
 
The MICT participated this afternoon in a memorial service at the East African Community (EAC) Headquarters, organized by the Rwandan community in Arusha, Tanzania. The event featured a wreath laying and a candle lighting ceremony, as well as remarks under the theme "Fighting Genocide Ideology".
 
Following the addresses of the Secretary General of the EAC, Ambassador Dr. Richard Sezibera, and the former Prosecutor of the International Criminal Tribunal for Rwanda (ICTR) and of the MICT, Hon. Hassan B. Jallow, the Head of MICT Registry – Arusha branch, Mr. Samuel Akorimo, stated in his remarks: "We must relentlessly disseminate knowledge, combat impunity, and be vigilant in opposing ethnic divisions and violence. In that way, our work continues to give the younger generation a stronger legacy to prevent the insidious ideas of Genocide from taking root again, in Rwanda and elsewhere around the world".
 
On 15 April 2016, officials from the MICT will attend a United Nations commemoration ceremony in Kigali, Rwanda. This event will be hosted at the United Nations Development Programme Rwanda's compound.
 
The MICT continues to carry out essential functions of the ICTR following the ICTR's closure.