Mechanism Information Programme launches Guide for History Teachers
Mechanism
Press release
The Hague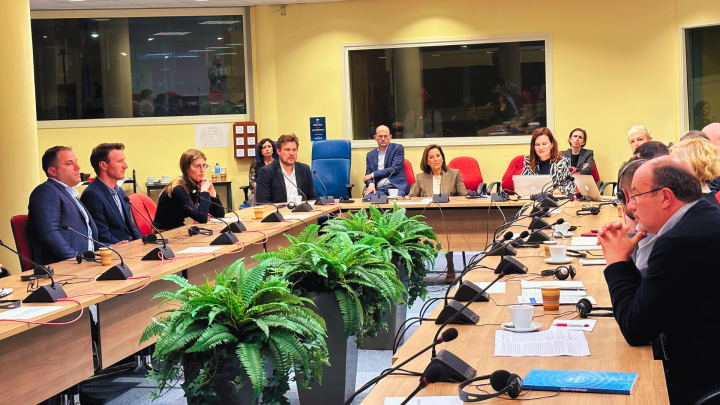 Today, the Mechanism Information Programme for Affected Communities (MIP) was pleased to launch its latest informational product, entitled: Guide for History Teachers: How to Use Archival Material of the ICTY and Mechanism in Teaching the History of the 1990s conflicts (Guide).
The Guide was developed by the MIP in cooperation with the European Association of History Teachers (EuroClio) and representatives of teacher associations from across the former Yugoslavia. It is aimed at history teachers who wish to enhance their knowledge and skills in using the archival material of the International Criminal Tribunal for the former Yugoslavia (ICTY) and the International Residual Mechanism for Criminal Tribunals (Mechanism) when preparing history lessons on the 1990s conflicts in the former Yugoslavia.
In her opening remarks at the launch event, the President of the Mechanism, Judge Graciela Gatti Santana, expressed strong support for the Guide and her hope that it would be of great assistance to teachers in their meaningful and challenging work. Noting that consolidating the achievements and legacy of the ad hoc Tribunals and the Mechanism is one of her key priorities, the President stated:
"Initiatives such as the Guide for History Teachers are therefore very close to my heart, as they allow people to access the public judicial records of these institutions and better understand their work and the contributions they have made. Crucially, this Guide will also enable you, the educators, to share this knowledge with your students, and to help shape the way they learn about the conflicts. In this way, it can become a very powerful tool."
Following the President's remarks, Mr. Steven Stegers, Executive Director of EuroClio, spoke of the challenges in teaching about the 1990s conflicts in the former Yugoslavia, and expressed EuroClio's satisfaction in having been able to support this Guide. Subsequently, 10 history teachers from across the region, who contributed to the development of the Guide, presented their work.
The idea for the Guide emerged during workshops organised by the MIP to train history teachers from the former Yugoslavia in how to effectively incorporate judicially established facts into educational materials pertaining to the 1990s conflicts in the region. Since the start of the project in January 2019, the MIP has successfully conducted workshops attended by over 500 history teachers.
Today's launch was attended by a group of history teachers from the former Yugoslavia as part of a two-day study visit to the Mechanism's branch in The Hague, while over 40 teachers also took part online. During this visit, the participating history teachers had the opportunity to engage with Mechanism representatives from the Offices of the President, the Prosecutor and the Registrar.
Funded by the European Union, the MIP aims to enhance the knowledge and understanding of citizens and communities in the countries of the former Yugoslavia regarding the crimes committed during the conflicts of the 1990s, drawing from ICTY and Mechanism cases.