Mechanism's Principals hold diplomatic briefing in The Hague
Mechanism
Press release
The Hague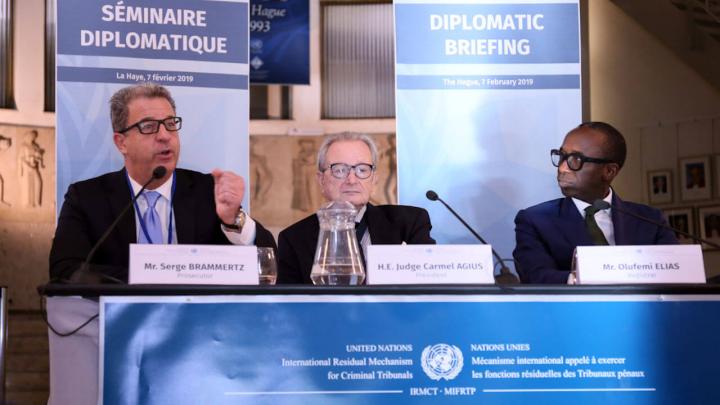 The Principals of the International Residual Mechanism for Criminal Tribunals (Mechanism) yesterday held a briefing for the diplomatic corps accredited to the Kingdom of the Netherlands and international organizations.
During the briefing, which was attended by some 100 ambassadors and members of the diplomatic corps, President Carmel Agius, Prosecutor Serge Brammertz and Registrar Olufemi Elias provided an overview of the Mechanism's activities.
The Principals of the Mechanism also thanked State representatives for their steadfast support to the Mechanism since its inception, and identified several areas where continued support from Member States remains essential. These include locating and arresting the eight fugitives indicted by the International Criminal Tribunal for Rwanda (ICTR); the remaining transfer of those convicted by the ICTR or the International Criminal Tribunal for the former Yugoslavia to an enforcement State; and, more generally, ensuring that the Mechanism has sufficient budgetary resources to undertake its work.
President Agius briefed the diplomatic corps on the three main priorities of his Presidency, namely to: (i) conclude the Mechanism's residual judicial proceedings in an efficient and timely manner, without sacrificing due process or fundamental fair trial rights of the accused; (ii) enhance the Mechanism's unique mandate through a unified work culture, better inter-branch coordination, and the harmonisation of practices and procedures at both the Arusha and The Hague branches; and (iii) foster a work environment that encourages high staff morale and performance.  The President also informed the diplomatic corps about the Mechanism's ongoing judicial activities, as well as recent changes to the judicial roster. President Agius assured those present that he is determined to ensure that the Mechanism presents a sound and fiscally responsible budget request for 2020.
Prosecutor Brammertz discussed the key activities of his Office, namely the expeditious completion of trials and appeals, the search for the remaining ICTR fugitives and assistance to national jurisdictions. The Prosecutor noted that the workload for some residual functions appeared to be greater than initially planned, particularly review and contempt litigation at the Arusha branch, and the need from national authorities for continued support. The Prosecutor underscored his commitment that the Prosecution's upcoming budget submission will be as lean and cost-efficient as possible, while taking into account unexpected judicial activities.
Registrar Elias outlined current priorities of the Mechanism's Registry, including facilitating the efficient completion of the ongoing cases, providing protection and support to witnesses, assisting national judicial authorities and further improving accessibility of the public judicial records and archives. He further reflected on some of the operational challenges the Mechanism is currently facing, underscoring in this regard the paramount importance of continued support of the United Nations Member States in the successful completion of the Mechanism's mandate.
The Mechanism will continue to regularly update the diplomatic corps, both in Arusha and in The Hague, about its work and activities.