Mali Signs Enforcement of Sentences Agreement
Mechanism
Press release
Arusha, The Hague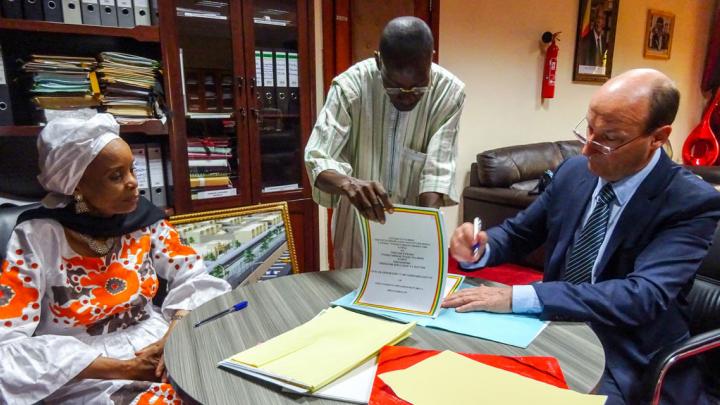 On 13 May 2016, the United Nations and the Republic of Mali concluded an Agreement on the enforcement of sentences pronounced by either the International Criminal Tribunal for Rwanda (ICTR) or the Mechanism for International Criminal Tribunals (MICT).
The Agreement was signed in Bamako, Mali, by Mr. John Hocking, Registrar of the MICT, on behalf of the United Nations and by H.E. Justice Sanogo Aminata Mallé, Minister of Justice, Human Rights and Keeper of the Seals, on behalf of the Government of the Republic of Mali.
During the signature ceremony Registrar Hocking recalled: "In 2001, Mali was the first country to enforce ICTR sentences. Today, Mali is the first country to sign a framework agreement on the MICT enforcement of sentences." The Agreement, which reflects best practices on enforcing international sentences, reaffirms the unwavering support of Mali to United Nations international criminal justice.
During his official visit to Mali, the Registrar held meetings with high-level authorities, including the Prime Minister of Mali, H.E. Mr. Modibo Keïta, to discuss ongoing cooperation. Additionally, Registrar Hocking met with the 16 ICTR-convicted persons who are currently serving their prison terms in Mali.
The first enforcement agreement between the United Nations and the Republic of Mali was signed on 12 February 1999. The 2016 Agreement reflects an update to this prior enforcement agreement. The MICT continues to carry out essential functions of the ICTR, including supervising the enforcement of sentences imposed by the ICTR, following the ICTR's closure.
The MICT extends its gratitude to the Republic of Mali and other United Nations Member States which enforce sentences imposed by the ICTR, the International Criminal Tribunal for the former Yugoslavia, or the MICT.