ICTY receives Mostar Peace Connection Award
Mechanism
Press release
The Hague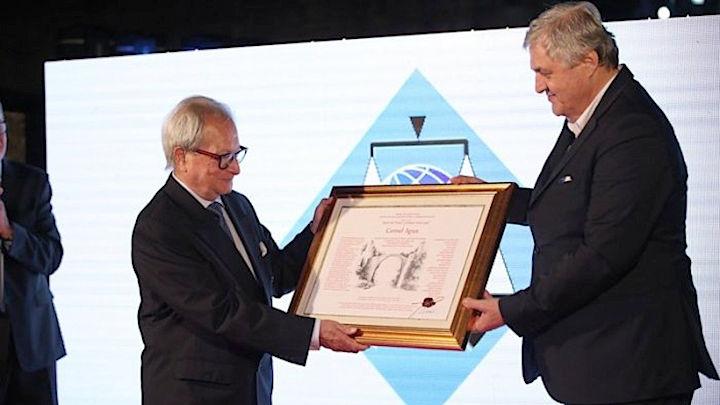 The International Criminal Tribunal for the former Yugoslavia (ICTY) has been presented with the 2018 Mostar Peace Connection Award by the Center for Peace and Multi-ethnic Cooperation (the Centre) from Mostar, Bosnia and Herzegovina. In his capacity as the last President of the ICTY, Judge Carmel Agius of the International Residual Mechanism for Criminal Tribunals (Mechanism) accepted the award on Monday, 23 July, during a ceremony held in Mostar. The Peace Connection Award was also posthumously presented to the ICTY's first President, Judge Antonio Cassese.
In presenting the Peace Connection Award to the ICTY, the Centre emphasized the importance of recognizing, now that the Tribunal's work has been completed, the significance of this great institution and of affirming its achievements through public acknowledgment. The Centre decided to refer symbolically to the work and contributions of the ICTY throughout its existence by honouring its first and last Presidents.
The Centre is a non-governmental and non-profitable organization which aims to investigate and document important events in the history of Mostar and Herzegovina in the period from 1990 to 2004. The Centre traditionally presents the Peace Connection Award as recognition to individuals and institutions that promote ideas of peace, democracy and respect for human rights and freedom in the world through their attitude and public action. There is a long list of laureates of the Centre's Peace Connection Award that includes Nelson Mandela, Vaclav Havel and Alois Mock.
In his acceptance speech, Judge Agius touched upon the vital role that justice plays in the quest for peace and outlined the ground-breaking role of the ICTY during its existence. He also dwelt on the obstacles and the adverse propaganda the ICTY faced in the former Yugoslavia put forward by those to whom politics and nationalism came first, who protected war criminals and projected them as heroes, and who considered justice through the ICTY a threat. Judge Agius thanked the Centre for honouring the ICTY and for its various initiatives towards promoting peace.
Judge Agius has been a Judge of the Mechanism since its inception in 2012 and served as the President of the ICTY from November 2015 until the Tribunal's historic closure in December 2017. In June 2018, the United Nations Secretary-General appointed Judge Agius to serve as the next President of the Mechanism, effective 19 January 2019.