Exhibition "Multilingual Justice from Nuremberg to The Hague" opens today in The Hague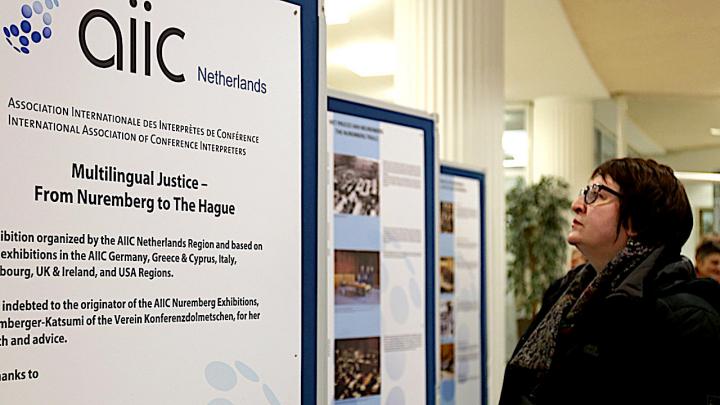 The Registrar of the International Residual Mechanism for Criminal Tribunals (Mechanism), Mr. Olufemi Elias, today at the premises of the Mechanism in The Hague, opened the exhibition entitled 'Multilingual Justice from Nuremberg to The Hague', highlighting the work of interpreters in international criminal justice.
The exhibition, which was prepared by the International Association of Conference Interpreters (AIIC) also includes a panel contributed by the Mechanism which is dedicated to the work of the interpreters at the International Criminal Tribunal for Rwanda (ICTR) and the International Criminal Tribunal for the former Yugoslavia (ICTY).
Between them, the ICTR and ICTY indicted over 250 persons, held over 11,000 days of court proceedings and heard testimony of some 7,000 witnesses. To make this possible, interpretation was provided in English and French, as well as in Bosnian/Croatian/Serbian (and Albanian and Macedonian in some cases) and in Kinyarwanda at the ICTR.
Speaking about the complexity of international legal proceedings and the demanding requirements placed on the interpreters, Registrar Elias noted that "the ICTR and the ICTY set a very high bar over the years", adding that "the Mechanism is proud to be able to continue the high standard and best practices of the two ad hoc tribunals".
The exhibition was previously hosted by the Special Tribunal for Lebanon and it will remain open to the public at the Mechanism's premises for the coming months.