Chief Prosecutor Brammertz presents remarks on the protection of cultural heritage in Geneva
Office of the Prosecutor
Press release
The Hague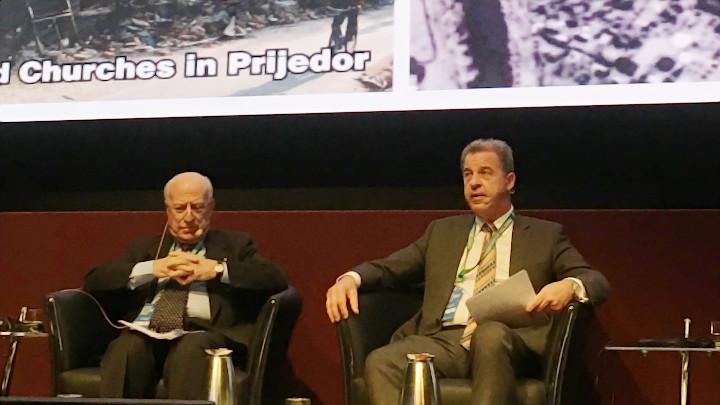 Mechanism Chief Prosecutor Serge Brammertz presented remarks today in Geneva at the conference on the protection of cultural heritage marking the 20th anniversary of the 1999 Second Protocol to the 1954 Hague Convention, convened jointly by UNESCO and the Government of Switzerland.
The conference aimed to share and deliberate on the achievements and challenges facing the implementation of the Second Protocol and the protection of cultural property in armed conflict today.
In his remarks, Prosecutor Brammertz emphasised that building on the 1954 Hague Convention and the Second Protocol, the International Criminal Tribunal for the former Yugoslavia was the first international court to recognize that attacks against cultural property are crimes under international law. The Prosecutor recalled the horrifying destruction of cultural property during the conflicts in the former Yugoslavia, but noted that the ICTY had held many senior leaders responsible for these crimes, including the conviction of senior military officers for the attacks on the UNESCO World Heritage Site of Dubrovnik. 
Reflecting on the significant developments since the adoption of the Second Protocol, the Prosecutor underscored, "Senior military and political leaders can and have been held accountable for these crimes, even if they are far removed from the crime scene. This law applies to both international and non-international armed conflicts, and can be enforced even if domestic law is silent."
In conclusion, the Prosecutor noted that attacks against cultural property are unfortunately ongoing again today, and said: "What we need is the willingness to hold the perpetrators accountable and punish them for their crimes against our collective heritage. Whether in international, regional or national courts, the international community can demonstrate its revulsion at these attacks and its commitment to bringing those responsible to justice. That would be a fitting way to mark this 20th anniversary and ensure that the objectives of the Second Protocol are achieved."