Chief Prosecutor Brammertz meets Montenegrin Officials
Office of the Prosecutor
Press release
The Hague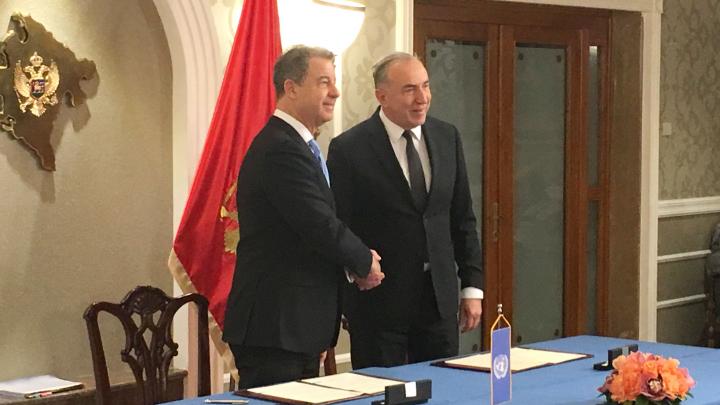 Mechanism Chief Prosecutor Serge Brammertz is visiting Podgorica from 28 to 30 January 2019.
The Prosecutor is meeting with President Milo Đukanović, Deputy Prime Minister and Minister of Justice Zoran Pažin, Minister of Foreign Affairs Srđan Darmanović and Supreme State Prosecutor Ivica Stanković to discuss continuing and strengthening cooperation between the Mechanism Office of the Prosecutor (OTP) and Montenegrin authorities on war crimes justice, the search for missing persons and overcoming the legacy of the recent past through reconciliation, particularly following the closure of the International Criminal Tribunal for the former Yugoslavia.
This morning, 29 January, Chief Prosecutor Brammertz and Supreme State Prosecutor Stanković signed a Memorandum of Understanding between the OTP and the Supreme State Prosecutor's Office of Montenegro on cooperation in the prosecution of war crimes and other serious violations of international humanitarian law. Through this agreement, the OTP will provide the Supreme State Prosecutor's Office with access to the OTP's evidence collection and respond to requests for assistance. Prosecutor Brammertz also informed Supreme State Prosecutor Stanković about other assistance the OTP can provide, including direct assistance on ongoing cases, legal advice, training on advanced prosecutorial skills and support to regional judicial cooperation.
Following the signing of the agreement, Chief Prosecutor Brammertz noted that Montenegro has made important commitments related to war crimes, the rule of law and reconciliation, including in the Declarations adopted at the 2018 London Summit and in negotiations on accession to the European Union. Prosecutor Brammertz remarked, "With the closure of the ICTY, the responsibility for war crimes justice is now with national authorities. My Office has a clear message: we are fully committed to continuing and strengthening our support to our national counterparts, who face significant challenges and need my Office's knowledge and expertise. As we are discussing today, our shared goal is that Montenegrin prosecutors will be able to achieve more meaningful justice for victims of war crimes moving forward, which will ultimately support the rule of law and reconciliation."