Chief Prosecutor Brammertz meets with authorities on missing persons
Office of the Prosecutor
Press release
The Hague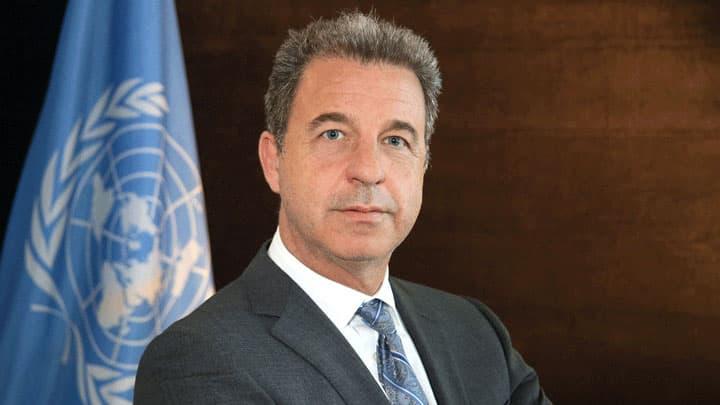 Chief Prosecutor Serge Brammertz of the International Residual Mechanism for Criminal Tribunals hosted today a meeting of senior representatives of institutions responsible for the search for those persons still missing from the conflict in Bosnia and Herzegovina. Attendees included Acting Chief Prosecutor Gordana Tadić of the Prosecutor's Office of BiH (PO BiH), Director General Perica Stanić of the State Investigation and Protection Agency (SIPA), the Directors of the Missing Persons Institute of Bosnia and Herzegovina (MPI), and representatives of International Committee of the Red Cross (ICRC) and International Missing Persons Commission (ICMP).
The search for missing persons in Bosnia and Herzegovina has seen significant achievements, but further results are urgently needed. Through the work of the six institutions represented and other partners, tens of thousands missing persons have been located. Too many families – of all places, ethnicities and affiliations – are still waiting for information of the fate of their loved ones and the closure that they deserve.
These six institutions underlined their commitment to tracing all missing persons from the conflict.
The Mechanism Office of the Prosecutor and ICRC are undertaking a joint project to support the BiH and regional institutions by comprehensively reviewing and analyzing all materials collected by the ICTY Office of the Prosecutor to identify further leads on the fate of those persons still missing today.
The BiH institutions are taking meaningful steps to strengthen their efforts. The PO BiH and SIPA have established dedicated missing persons and exhumations special units, which are expected to improve efficiency and results by centralizing efforts. The MPI will strengthen its analytical capacities to gather and make better use of available information, and has requested additional training for its staff to support this additional analytical focus.
The ICMP's state-of-the-art laboratory facilities are now operating in The Hague and processing identification requests from BiH institutions. The ICMP will continue a presence in the region and provide the same services to the victims.
All participants expressed their deepest appreciation to partners who support this important work by providing financial support and capacity-building, particularly the European Union. It is clear that investments made to-date have led to concrete results. Strengthening financial, diplomatic and other support will be an important component of ensuring continued achievements in the coming years.
Regarding challenges, participants agreed that it is critical that all those who have any information about the fate of missing persons must come forward. The families of the missing deserve nothing less.
All institutions underscored that the search for missing persons is a humanitarian imperative that is carried out impartially and independently. It should be free from politicization, and fully supported by all civic, governmental and political bodies.
In conclusion, participants agreed that the continued partnership between international and national bodies is critical to resolving the fates of persons still missing today, and are determined to continue and strengthen that cooperation.