Bosnian Law students visit the Mechanism's Hague branch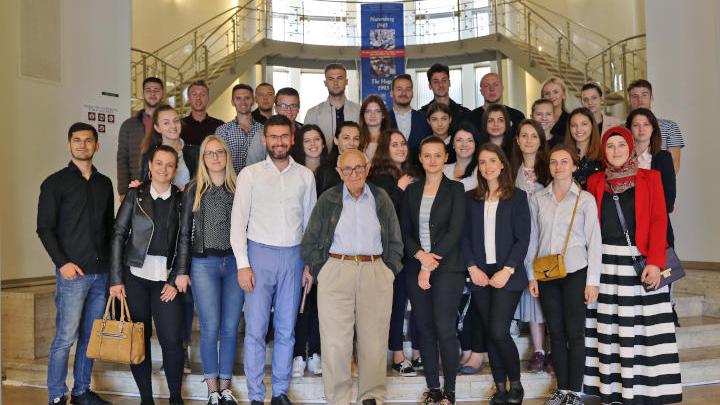 The study visit of 40 students of the Law Faculty of the Zenica University, Bosnia and Herzegovina, to the International Residual Mechanism for Criminal Tribunals (Mechanism) concluded on 10 May 2018, following two days of lectures and presentations. The visit provided the students with a unique insight into the mandate, work and practices of the Mechanism, as well as the achievements and the legacy of the International Criminal Tribunal for the former Yugoslavia (ICTY).
The students were greeted by the President of the Mechanism, Judge Theodor Meron, and received a briefing from the President's Chef de Cabinet and Principal Legal Advisor, Ms. Gabrielle McIntyre, who spoke about the work of Chambers and the Mechanism's unique judicial model, in which the judges carry out the vast majority of their functions remotely.
In addition, the students received briefings from several representatives of the Office of the Prosecutor about matters including the concepts of command responsibility and joint criminal enterprise, as well as the prosecution of crimes of sexual violence. Registry representatives further spoke with the students about the wide variety of functions that are performed by the Mechanism's administration, including with respect to external relations, as well as the protection and support of witnesses.
Commenting on the value of the visit to the Mechanism to his students, Professor Enis Omerović, said: "This is a unique experience for the students, to have a chance to listen to and speak to such seasoned legal professionals and hear their experiences first–hand. This will definitely be an asset for the students as future lawyers and judges in their communities".