Appeals Chamber grants request for review in Ngirabatware case, resuming proceedings following release of Judge Akay
Chambers
Press release
Arusha, The Hague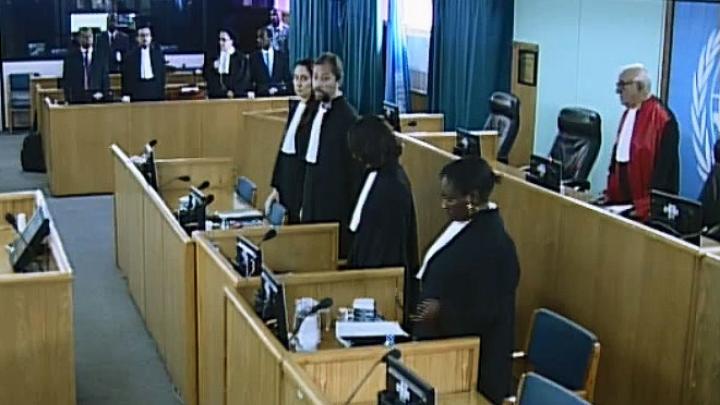 The Appeals Chamber of the United Nations Mechanism for International Criminal Tribunals ("Mechanism"), composed of Judge Theodor Meron (United States), presiding, Judge Joseph Masanche (Tanzania), Judge Aydin Sefa Akay (Turkey), Judge Aminatta N'gum (Gambia), and Judge Gberdao Kam (Burkina Faso), today issued a decision granting a request for review of the judgement in the case of Prosecutor v. Augustin Ngirabatware. The issuance of the decision marks the resumption of the proceedings on the merits of the case by the full bench of the Appeals Chamber.
The case came to a halt following the arrest and nine-month detention of Judge Akay in Turkey. Despite the formal assertion of diplomatic immunity by the United Nations, Judge Akay was convicted of being a member of a terrorist organization and sentenced to a term of seven years and six months of imprisonment by a Turkish criminal court in Ankara on 14 June 2017. Judge Akay was provisionally released the same day pending his appeal.
Following Judge Akay's release from detention, Judge Meron, the President of the Mechanism and Presiding Judge of the Appeals Chamber, consulted with Judge Akay, who confirmed his ability and willingness to exercise his judicial functions in this case.
This is the first time the Mechanism has granted a request for review of a final judgement and decided to hold a review hearing. Review of final judgements is one of a number of essential residual functions carried out by the Mechanism, previously exercised by the International Criminal Tribunal for Rwanda and the International Criminal Tribunal for the former Yugoslavia.
Augustin Ngirabatware, the former Rwandan Minister of Planning, was sentenced by the Appeals Chamber of the Mechanism to 30 years of imprisonment for committing direct and public incitement to commit genocide and instigating and aiding and abetting genocide in December 2014. On 8 July 2016, Ngirabatware filed a request for review of his convictions on the basis of a new fact, which he claims exonerates him. In today's decision, the Appeals Chamber indicated that it will hold a review hearing to consider evidence on the new fact pursuant to Rule 147 of the Mechanism's Rules of Procedure and Evidence. In the meantime, the Appeals Chamber has ordered the parties to file written submissions with respect to supporting and rebuttal evidence by 31 July 2017. A scheduling order for the review hearing will be issued in due course.