Secretary-General appoints Judge Fatimata Sanou Touré of Burkina Faso to serve as Mechanism Judge
Mechanism
Press release
Arusha, The Hague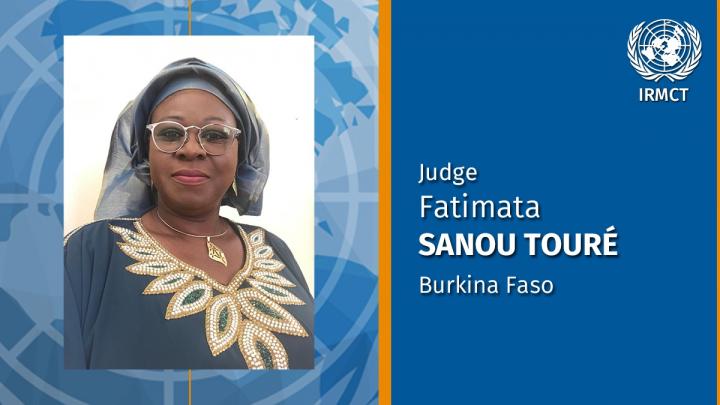 The Secretary-General of the United Nations, Mr. António Guterres, has appointed Judge Fatimata Sanou Touré of Burkina Faso to the roster of Judges of the International Residual Mechanism for Criminal Tribunals ("Mechanism"), effective 12 August 2021.
Judge Sanou Touré is a magistrate de grade exceptionnel (senior member of the national judiciary) in Burkina Faso. Since October 2015, she has served as Chamber President at the Court of Appeal of Ouagadougou, and from 2012 to 2015 served as President of the Court of First Instance of Ouagadougou, the largest court of first instance in Burkina Faso. Before that, Judge Sanou Touré worked from 2007 as the senior investigating judge with the rank of Vice-President of the Court of First Instance of Ouagadougou.
Judge Sanou Touré's work in defending and promoting human rights led to her being elected President of the Association des Femmes Juristes du Burkina Faso (2013 to 2017) and Vice-President of the Fondation pour l'Étude et la Promotion des Droits de l'Homme en Afrique. She is also a founding member of the African Women Leaders Network for the Promotion of Sexual and Reproductive Health and Family Planning. As a member of the national constitutional commission representing women's associations and as deputy rapporteur of that commission, Judge Sanou Touré participated in the preparation of the preliminary draft constitution of the Fifth Republic of Burkina Faso (2017). In addition, she has represented the African group on the Women's Advisory Council of the Organization of Islamic Cooperation since November 2019.
Judge Sanou Touré was appointed to the Mechanism's roster of Judges following the unfortunate passing of Judge Gberdao Gustave Kam in February 2021 and will serve the remainder of Judge Kam's term of office, which expires on 30 June 2022.
In accordance with its Statute, the Mechanism has a roster of 25 independent Judges who serve both the Arusha and The Hague branches of the Mechanism.