Mechanism Information Programme participates in panel discussion about Srebrenica genocide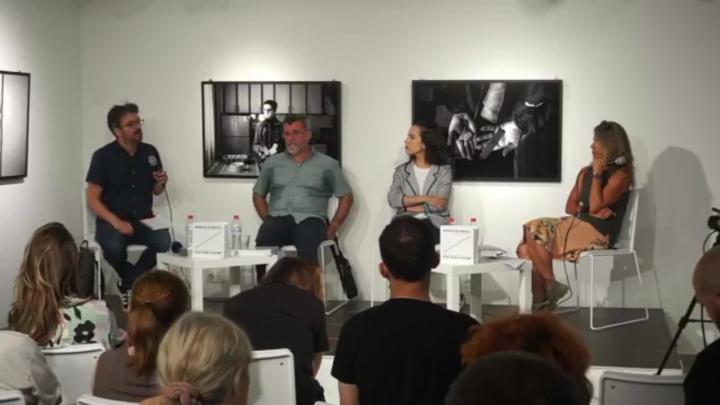 On 10 July 2021, Nemanja Stjepanović, researcher for the Mechanism Information Programme for Affected Communities (MIP), spoke at a panel discussion organised as part of the promotion of an edited essay collection entitled Never again to anyone: Srebrenica genocide and the fight against oblivion. The event took place in the Endžio hab - a meeting venue for civil society organisations in Belgrade, Serbia. The event was organised by the publishers of the essay volume – the Youth Initiative for Human Rights Serbia, ForumZFD Serbia, and the Independent Journalists' Association of Vojvodina.

Along with Mr. Stjepanović, participants in the panel discussion included Ajla Škrbić, Assistant Professor of Public and International Law from Bosnia and Herzegovina and editor of the essay volume, and Veran Matić, the author of one of the essays featured in the collection. The discussion was moderated by Marina Fratucan, a journalist from Serbia.
Mr. Stjepanović reminded participants that many trial and appeal proceedings were conducted before the ICTY and the Mechanism in relation to the genocide and other crimes committed in Srebrenica, and that the facts established in those cases can be used as a basis for education and to inform public debate about the past. He emphasised that the Mechanism is responsible for managing the vast judicial archives of these institutions, which include thousands of exhibits admitted into evidence. Mr. Stjepanović further stressed that all of the MIP's public information materials, including those produced for commemorations of the Srebrenica genocide, are exclusively based on the archives.

All participants agreed that the judicially-established facts regarding the Srebrenica genocide should be actively discussed in the public sphere as part of the fight against genocide denial and revisionism. They also condemned the practice of denial which permeates regional media and politics.  
The MIP's participation in the panel discussion forms a part of the Programme's efforts to support projects and events organised by civil society organisations from the former Yugoslavia that are active in the field of transitional justice.
The aim of the MIP is to improve the knowledge and understanding of citizens and communities in the countries of the former Yugoslavia about the crimes committed during the conflicts of the 1990s, based on ICTY and Mechanism cases. The MIP is generously supported by the European Union and the Swiss Federal Department of Foreign Affairs.